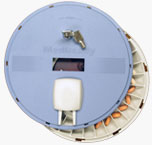 We have a 98.6% compliance rate with our MedPro monitored medication dispenser...said, Jason Seyler
Pittsburgh. PA (PRWEB) November 17, 2011
Mistakes made in prescription medication errors are a devastating - and at times deadly - reality. Every year, 1.3 million people suffer some form of injury from medication errors according to the Food and Drug Administration. (ii) Although it can be very easy to make a mistake in taking or administering medication, new technology is now making it easier to prevent medication errors. Automated Security Alert, a company based in Pittsburgh, PA is using the MedPro to help patients and caregivers regulate medication accurately. The relatively simple device is a monitored medication dispenser that can be pre-filled and locked securely by the patient's caregiver who can set the MedPro to dispense medication according to the pre-set schedule. When the time comes to take the medication, the device automatically releases the pre-measured dose into a small compartment that is easily opened and sounds a loud signal that it is time to take the medication. If the patient doesn't take the medication out of the dispenser door, the MedPro will send a signal to Automated Security Alert who can contact the patient, family, or caregiver who can address the situation.
Although the MedPro medication dispenser is a great help to senior citizens who may live alone or who may have a complicated dosing schedule, this is also an excellent safety measure for individuals in a care transition. A care transition refers to the adjustment that an individual who has had a major injury, illness, or health episode that required them to be out of their home and in a medical facility who are now moving back into their homes. Typically, major medical episodes require new medications and dosing instructions and the MedPro plus can be a great help in assuring that patients are getting the medication that they need when they need it.
Automated Security Alert, Inc., has provided freedom and security since 1988 to over 60,000 consumers through the use of technology and services that enable seniors, physically-challenged persons and recovering patients to maintain an independent lifestyle in their homes. ASA's creative, dependable solutions include medical alert systems ("personal emergency response systems"); fall detection systems; and medication management systems, including electronic pill dispensers and monitored automated medication dispensers.
For further information, please contact Matthew Couillard at 1.800.338.7114.
(i)Automated Security Alert 2011 study
(ii)Institute for Medication Management.
http://www.medicationreview.net/index.php/medication-error.html
###