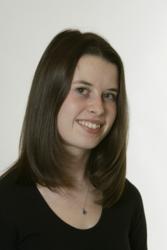 Susan has been a tremendous asset to Olin, and we have benefited greatly from her energy, intelligence, philanthropy and commitment.
Needham, MA (PRWEB) November 18, 2011
Susan Fredholm Murphy, a senior consultant and manager at PE International in Boston and member of the inaugural class at Olin College of Engineering, has been named the college's first alumni trustee.
"We are very pleased to appoint Susan to our Board as the first alumni trustee," said Richard K. Miller, president of Olin College. "Since she first set foot on our campus a decade ago as one of the Olin 'partners' helping to found the college, Susan has been a tremendous asset to Olin, and we have benefited greatly from her energy, intelligence, philanthropy and commitment. Following graduation, Susan continued to help build the college as one of our most active and engaged alumni. We look forward to working with her in this new role."
A member of Olin's Class of 2006, the first to graduate from the college, Murphy majored in mechanical engineering. Upon graduation she served as one of the first two class alumni representatives. In this role, she was instrumental in establishing the Olin Alumni Association and the Olin Alumni Council as its governing body. Murphy served as co-chair of the Alumni Events Committee and was a member of the Class of 2006 Reunion Planning Committee. She has continued to donate time to current Olin students through moderating an annual panel about careers in energy and sustainability, speaking at Olin open houses and providing advice to students seeking to apply to grad school.
A National Science Foundation Graduate Research Fellowship recipient, Murphy received a master's degree from MIT's Technology and Policy program in 2008. Since then she has worked as a consultant at PE International, where she helps clients understand and improve the environmental impacts of their products across the product's full life cycle. She has developed numerous environmental Life Cycle Assessment (LCA) models, reports and interactive reporting tools, and has reviewed LCA studies for ISO compliance. Murphy initiated and manages PE's role in the development of the award-winning SolidWorks Sustainability LCA tool for mechanical designers. She also currently manages PE's North American service delivery for clients in the building and construction industry.
"Alumni comprise the majority of most colleges and university boards, but Olin's oldest alumni graduated just five years ago," noted Miller. "Olin's Board of Trustees decided that it is now time to formally integrate the voice of alumni into this leadership group." As a trustee, Murphy will serve on committees for Academic Affairs, Student Life and Development.
Murphy currently resides with her husband, also a member of Olin's inaugural class, in Quincy, Mass.
###