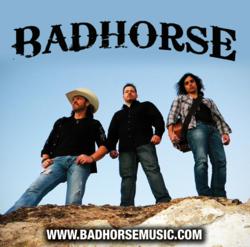 The video was fun to shoot, the fans love the feel good sing-a-long song.
Nashville, TN (PRWEB) November 17, 2011
Global Maximus Records (GMR), an emerging leader in the music industry, announced today that Country Music's 'BadHorse' has completed the production of the music video "It's All Good".
The video was originally produced for television under another storyline surrounding lost music fans stranded outside Nashville. The video was reproduced when the song started being adopted and played by sporting teams across the country to musically enhance their tailgate ceremonies.
The bands Robert E., who's father is the famed Robert "Bobby" Walden, a member of the Pittsburg Steelers all 75th Anniversary team invited a special guest in Terry Bradshaw to take part in the making of the video.
The former teammates and close friends hammed it up for the festive crowd making the production a very fun experience for the fans helping out as extras. Mr. Bradshaw was asked to take part in the music video showcasing the fun of the live experience of tailgating.
The crowds that participated in the video at LP Field, home of the Tennessee Titans, were energy in motion providing a true tailgate party made to film. The lead character however in Mr. Bradshaw, as would be expected, was comical and fun to watch as the video took form.
More impressively, Mr. Bradshaw and Mr. Walden both took the time to personally address all the attendees, a testimony of real legends admired for their grounded personalities.
The former NFL greats were very understanding of the crowd's request for pictures and even just having surgery on his hand, Mr. Bradshaw provided everyone who asked with autographs during production breaks. They do not have a statistic for class, but if so, these greats would win MVP awards.
The music video to "It's All Good" will join the single currently being played on worldwide radio and moving up the country music charts. The feel good song is catchy, fun and has a unique energetic sing-along appeal to the fans. Crowd participation occurs in several parts of the song perfect for a group party or any party for that matter.
The single is now available on iTunes, Amazon Music and other music sites now, get your copy today and get it straight from the horse's mouth, "It's All Good."
For More Information on Global Maximus Records, LLC
http://www.MusicatGMR.com
For More Information on 'BadHorse'
http://www.BadHorseMusic.com
###