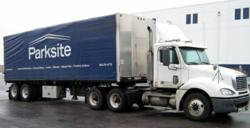 Our ultimate goals are to create a better customer experience, to improve the quality of service and control costs.
(PRWEB) November 18, 2011
Parksite, a 100% employee-owned sales, marketing and distribution company, has received PROSALES Magazine's 2011 Merit Award for best use of technology. Parksite was the only distributor to receive an award this year.
Parksite is one of the fastest growing building materials suppliers in the United States. The company operates in every state east of the Mississippi (except Michigan), offers 23 product lines and has more than 300 associates in 9 locations.
The PROSALES Merit Award came in honor of a new inventory & warehouse management system Parksite incorporated to increase productivity.
PROSALES editor Evelyn Rabil writes, "For a company grossing $259 million in sales, the project was as cost-effective as it could get. The Parksite team recorded more than 6,000 SKUs into the system, reorganized the bin layout, programmed scanner guns, and readied barcode printers in each of the company's locations across the eastern half of the U.S. The technology overhaul eliminated paper pick tickets, set definite bin locations, and enabled pickers to increase productivity by 34% with 75% higher accuracy. Cost per lines shipped dropped 20% and four consecutive bank audits at one location revealed 100% inventory accuracy."
"As employee-owners we are thrilled with this validation of our hard work and dedication to innovation," said George A. Pattee, Parksite CEO and Chairman of the Board. "Our ultimate goals are to create a better customer experience, to improve the quality of service and control costs. The PROSALES award is a national building-industry acknowledgement that we are doing an outstanding job. I am very proud of my fellow associates."
Parksite used Pronto-Xi ERP business software for the technology upgrade. The inventory accuracy has translated into a higher fill rate to Parksite customers. Greater customer satisfaction is expected to produce more orders and higher revenues for the company.
Parksite offers a wide range of building materials including DuPont™ Tyvek® Weatherization Systems, AZEK® Building Products, specialty Cedar, Deckorators, Nichiha Fiber Cement, DuPont™ Corian®, DuPont™ Zodiaq® and Natural Stone.
To read more about the PROSALES award winners, visit http://www.PROSALESmagazine.com/excellence. In addition to the national recognition, Parksite will receive a cash prize, which will be donated to a charity of its choice. Parksite affiliates itself with organizations in the building industry and currently assists Habitat for Humanity, the American Red Cross and HomeAid, (a national non-profit provider of housing for the homeless) with building materials and on-site people power.
PROSALES Magazine is a part of the Hanley Wood family of publications. Published nine times a year, PROSALES delivers award-winning editorial to 34,000 building material dealers and distributors throughout the world. PROSALES' editorial focus provides actionable information to help building material dealers improve sales.
About Parksite
Parksite is an employee owned company that provides a combination of direct sales, market development and progressive distribution services within the building materials supply chain. We recognize that each customer, manufacturer and product has unique requirements and we customize our services to meet those needs. Parksite defines its position in the supply chain by investing resources in activities that result in accelerated market acceptance of new products. More information about Parksite and its products is available at http://www.parksite.com.
# # #