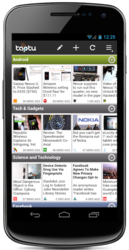 Cambridge, England & Denver, CO (PRWEB) November 17, 2011
Taptu, the social media and mobile search technology company, is announcing version 2.0 of its popular social news reader app for Android phones and tablets, with support for Android 4.0 Ice Cream Sandwich and a unique new feature that lets users turn any keyword into a contextual stream of news.
"Taptu 2.0 is the most visually appealing and useful way to find and consume content on Android devices, especially tablets," said Mitch Lazar, CEO of Taptu. "The new app marks the launch of Endless Mixtape search-based streams, a feature unique to Taptu born out of our search algorithms and heritage that allows users to customize their news and information experience more than any other app."
In addition to a more beautiful and easy to use interface, Taptu version 2.0 introduces Endless Mixtape streams that use Taptu's search technology to create targeted streams for any topic.
Taptu is best known for letting users DJ the news by mixing and matching different publications, blogs, RSS and social media feeds to create customized streams of social news content. With version 2.0, users can now take customization to a whole new level by creating tailored streams based on a specific keyword search or by filtering existing streams to only include stories that pertain to a specific topic.
For example, Lady Gaga fans can go to the SteamStore and use this new feature to create a "Lady Gaga" Endless Mixtape stream. The stream would glean all stories featuring or mentioning Lady Gaga from Taptu's curated Music, Fashion and Celebrity streams as well as their immense collection of publications, blogs, RSS and social media feeds. Similarly, Florida Gator fans, could create an Endless Mixtape of news capturing just the news about their favorite team from the larger stream of college football news. Endless Mixtape streams allow users to have stories and social media content pertaining to specific people, products, places, events, teams and topics delivered to them in real time.
Android users can also use search to dig into streams they already follow, such as Taptu Technology Stream, and filter out just the stories related to a particular subject such as "Android" or "Ice Cream Sandwich."
Other features on Taptu 2.0 for Android include scrollable widgets, giving users the power to bring their favorite streams right to the homepage of their Android phone or tablet. Scrollable widgets also allow the user to flick through the top stories for each stream before having to actually open the app.
From the biggest news of the week to stories that cater to individual passions and specialized interests, Taptu allows users to keep news, blogs and social feeds organized in a clean and intuitive design. The company's search engine heritage allows Taptu to go beyond simple RSS feeds by actually recommending sources and enabling consumers to discover new content. Taptu's search expertise and algorithms also eliminates duplicate stories to ensure that users don't see the same story over and over.
Download Taptu 2.0 for Android phones and tablets now:
http://bit.ly/grCLYF
About Taptu:
Founded in 2006, Taptu is an award-winning social media and mobile technology company based in Cambridge, England, and Denver, Colorado. Taptu builds innovative platforms, tools and applications that enable highly personalized creation, curation, recommendation, search, discovery, management, consumption and sharing of content across all personal screen-based devices. Wapedia, Taptu's popular mobile Wikipedia with over 2 million downloads, is also available for download at the Apple App Store and on the Android Market.
See http://www.taptu.com for more information.
###