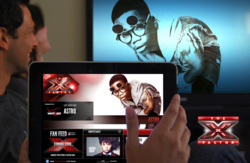 New York, NY (PRWEB) November 17, 2011
On Wednesday, TVplus was awarded the 'Best New Idea' at the Social TV Summit in a segment that featured eleven companies presenting their capabilities on the Social TV space.
The event was hosted at Capitale in New York City and included attendees from television networks, media agencies, and digital content producers along with over 20 representatives from different companies focused on the Social TV industry.
TVplus Co-Founder Randy Shiozaki led the presentation, highlighting his company's unique ability to produce second screen content 'LIVE' during a broadcast. Since its release over the summer, TVplus has engaged with activations for such high-profile 'LIVE' events as the 63rd Primetime Emmy Awards.
Along with a proprietary audio technology that allows a viewer to sync their second screen device to a program, TVplus has developed a content management platform known as the Parallel Editing Tool™ (PET), which allows the tech company to produce and publish content assets in real-time. The platform further showcases the ability to time-stamp content and social activity to the exact moment in the event, allowing TVplus to maintain the integrity of the Live broadcast while assuring the largest possible audience receives a first run experience, even if a viewer has time-shifted the program through DVR.
Earlier in the day, Shiozaki presented a case study on a current activation with The X Factor, and was joined on stage by Olivier Delfosse, VP of Interactive, Mobile and Digital Content at FremantleMedia Enterprises. TVplus was selected by show partners to power THE XTRA FACTOR™ App for both the Verizon Android tablet and the iPad, which provides synchronous content to a viewer's second screen while watching the LIVE broadcast. In its inaugural season in the U.S., The X Factor, which airs Wednesday and Thursday nights on FOX (8:00pm EST), is produced LIVE.
"Producing content against LIVE television is inherently complex, yet an essential component of interactive TV," says Shiozaki. "We've focused our development efforts on eliminating these hurdles for our partners, and winning this award further validates that there is an critical need in the space for these capabilities."
TVplus received similar accolades earlier this year when they were chosen as Best New Idea At CableLabs® 2011 Winter Conference and most likely to succeed in the cable market place.
Released in late July, the TVplus App is available for the iPad and currently enabled for several programs in Primetime. The company has plans to expand across multiple platforms in the near future, including PC/Mac, iPhone and Android devices.
About TVplus - TVplus is an interactive technology company based in Orange, CA. Co-founded by Ajay Shah and Randy Shiozaki, the TVplus platform uses a proprietary audio technology to identify and sync a viewer's Second Screen device to the exact moment within the show. TVplus then delivers relevant contextual and social content related to each scene of the program through our content management product.
TVplus offers the ability to capitalize on the viewer need for more content by integrating relevance, choice, and social connectivity to a television viewing experience. The platform has been created to transform television into a relevant social engagement and companion experience, providing a valuable viewer connection opportunity for both content providers and brand advertisers.
For more information about TVplus, visit http://www.tvplus.com and follow us on Twitter: (@TvplusApp). Visual assets available at http://www.tvplus.com/presskit
TVplus is a product of Spot411 Technologies.
TVplus
Matt Duffy
714.771.2050
press(at)tvplus(dot)com
###