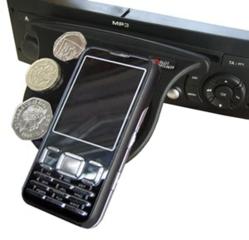 It's the must have car accessory product for all car enthusiasts this Christmas
London (PRWEB UK) 19 November 2011
A Brand New Car Accessory product The Caraselle car organiser - CD Slot Mount has just received its 1st award for Innovation and Invention at this year's 11th Annual British Innovation & Technology Show in the heart of London proving yet again that Innovation and growth can succeed in these tough times.
The product took the much coveted Diamond Award at the show alongside the Gold Award, as decided by 11 International judges. The award was for consumer product of the year and British Invention of the year 2011.
The product which has been designed to simply slot into your car CD Player to hold your mobile phone, ipod mp3 player or sat nav was hailed a great success. Jonathan Berliand Director for Caraselle Direct was thrilled with the awards and hopes it will help the product be the Ultimate "must have" Christmas present for all car enthusiasts of 2011.
The product featured on ITV's daybreak which pushed sales into the thousands within minutes, leaving the website out of stock and the company racing to refill as soon as possible!
Jonathan from Caraselle Direct said, when I first saw this product in March 2011 we knew we had a winner on our hands and after the huge surge in sales after appearing on Daybreak we were proved right, it's a real Winner.
The Caraselle car organiser CD Slot Mount works by simply inserting into your CD player slot, and with its ultra sticky and re-usable pad allows you to hold a range of devices securely and safely in place whilst you drive, stopping them sliding around your dashboard. It also removes those tel-tale window marks from your sat nav cutting down the chances of theft from your vehicle.
The product which is available through the Caraselle Direct website at £9.95 can be purchased in Black and Pink.
Ends with notes to editors below,
The British Innovation & Technology show was hosted in Spitalfields Market in the city of London 19-22nd October. http://www.britishinventionshow.com
CaraselleDirect.com is based in Kentish Town North London and are the European and International distributors for the CD Slot Mount.
Ends: - For further information, or to arrange an interview, please contact Jonathan Berliand on 0207 267 5003 Email: info(at)caraselledirect(dot)com
###