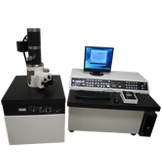 ASC ANALYTICAL NOW SUPPORTS SEM AND TEM IMAGING
Sarasota, Florida (PRWEB) November 21, 2011
ASC President Daniel Traynor states "the company's goal is simply to provide clients with quality imaging, analysis and advice at the best possible rate."
Aquea Scientific Corporation (ASC Analytical) is a very resourceful company and here to assist smaller companies or academia who may have difficulty acquiring the more expensive equipment for imaging.
SEM and TEM can be a real asset for marketing of new products or even making next step determinations in research. At ASC, we have had years of experience imaging samples from industries including Agriculture, Environmental, Pharmaceutical, Biological, Personal Care, along with many others. Samples have come in from areas specializing in microbiology, polymer synthesis, fabrics, skin and hair, insects, leaves and bark, sand and soil.
At ASC, we have the capability to image colloids, tissue samples, pastes, cremes, and many other sample types. We can also help extract and preserve samples for the imaging to assist in the preparation process and help identify its components.
For more information please contact us at http://www.ascanalytical.com
###