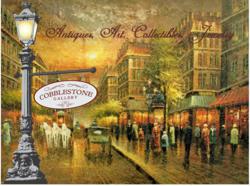 Gratitude is the inward feeling of kindness received. Thankfulness is the natural impulse to express that feeling. Thanksgiving is the following of that impulse.
---- Henry Van Dyke
San Francisco, CA (PRWEB) November 21, 2011
Cobblestone Gallery owner David Flores says, "We all can give in our own way, either large or small, to help those less fortunate than ourselves. Especially in these rough economic times we live in more than ever animals are suffering and need a voice asking for help!"
Cobblestone Gallery plans to do just that. Flores says, "No effort is too small. The point is to make the effort." Every month Cobblestone Gallery will publish an item for sale on their website and when purchased, 100% of the purchase price will be donated to charity.
The ASPCA, a nation-wide not-for-profit organization, is the oldest humane society in North America and is still one of the largest. The ASPCA's mission as an animal charity is to prevent animal cruelty and they also have community outreach and adoption programs, and provide animal health services. The ASPCA also offers grants to animal welfare organizations and agencies across the country to aid them in their individual efforts.
Flores mentions, "Customers can share their stories of animals being helped using the 'Contact Us' tab on the Cobblestone Gallery website to be featured on the company blog page."
Please visit Cobblestone Gallery at: http://www.cobblestonegallery.com
Your online shopping place for Antiques, Art, Collectibles, Jewelry
###