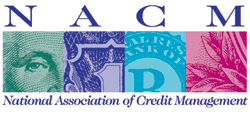 Columbia, MD (PRWEB) November 17, 2011
Following the House's 422-0 approval of H.R.674 last night, the National Association of Credit Management (NACM) welcomed the imminent end of the 3% withholding tax, which it has staunchly opposed since its enactment in 2006. Although the tax was originally passed to address tax compliance, the devastating effect it would've had on contractor cash flow would've easily outweighed any potential gains.
However, with the House's unanimous approval of an amended version of H.R. 674, contractors, subcontractors and any other party involved on government projects can rest easy, knowing that their cash flow is safe from this harmful withholding requirement.
"NACM and its membership of commercial trade creditors have fought for a full repeal of the 3% withholding tax since it was enacted in Section 511 of the Tax Increase Prevention and Reconciliation Act (TIPRA)," said NACM President Robin Schauseil, CAE. "Many of them rely heavily on local, state and federal government contracts for their livelihood. While we welcomed the delays in the withholding tax's implementation, a full repeal was the only way that our membership, and any company that has business with a governmental entity, could relax knowing that they wouldn't have to sacrifice their cash flow to pay for crimes that the vast majority of them had never committed."
"I'm pleased to see that Congress and the Administration have finally recognized the importance of cash flow to the nation's businesses, and summoned the political will to repeal this dangerous tax," she added.
NACM congratulates both the House and the Senate for working together in the spirit of bipartisanship to right a significant wrong in America's effort to increase tax compliance. NACM also urges President Barack Obama to quickly sign this important legislation, and eliminate the 3% withholding tax once and for all.
For more information on NACM's effort to repeal the burdensome 3% withholding tax, visit the association's advocacy page.
About the National Association of Credit Management
NACM, headquartered in Columbia, Maryland, supports more than 15,000 business credit and financial professionals worldwide with premier industry services, tools and information. NACM and its network of affiliated associations are the leading resource for credit and financial management information, education, products and services designed to improve the management of business credit and accounts receivable. NACM's collective voice has influenced federal legislative policy results concerning commercial business and trade credit to our nation's policy makers for more than 100 years, and continues to play an active part in legislative issues pertaining to business credit and corporate bankruptcy. Its annual Credit Congress is the largest gathering of credit professionals in the world.
NACM has a wealth of member experts in the fields of business-to-business credit and law. Consider using NACM as a resource in the development of your next credit or finance story.
Source: National Association of Credit Management
Contact: Jacob Barron, CICP, 410-740-5560
Blog: http://blog.nacm.org
###