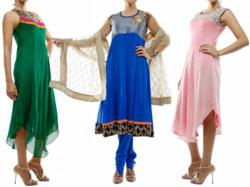 We believe that young, stylish consumers from the gulf region are not just trying to fit-in but are trying to make a statement that is consistent with their traditional values yet contemporary to wow their friends
Dubai, UAE (PRWEB) November 18, 2011
Indian-American fashion-house,Pure Elegance today announced that it has agreed to sell its product line through UAE's premier online store Modahouse.com. Pure Elegance is the fastest growing South-Asian fashion brand in US and a maker of both ethnic and indo-western fashions for global, fashion-conscious women.
Modahouse.com is the leading online store for luxury fashion brands based in Dubai, UAE. Modahouse sells top international brands like Gucci, Prada, Hermes, Burberry, Fendi, Armani, Dior, D&G and others through its online fashion store. Modahouse.com has strong, loyal customer base within the GCC countries and have strong customer focused sales and distribution network within the Gulf region and beyond.
This new relationship leverages the excitement Pure Elegance had created during prestigious Dubai Fashion Week this October. The fresh designs from Pure Elegance and the warmth of ethnic fashion touched many hearts during this show. The style and richness of Indo-American fashion transcended its origin, ethnicity and regional influence to capture the attention of global fashion audience.
"We are proud to partner with Modahouse.com and be able to showcase our designs alongside world's most prestigious brands," said Parna Ghose, President and Chief Designer of Pure Elegance. "We believe that young, stylish consumers from this region are not just trying to fit-in but are trying to make a statement that is consistent with their traditional values yet contemporary to wow their friends," said Parna.
"We notice a clear shift in the minds of younger, upwardly-mobile women in UAE and elsewhere in the Middle East," said Saeed Al Zubaidi, CEO of Modahouse.com. "We are very excited to be the first to bring exquisite designs from Pure Elegance to our clientele in this region. Their flawless craftsmanship and unique, unforgettable pieces strike perfect balance between trend and tradition that is typically missing in contemporary western or traditional eastern designs," said Saeed Al Zubaidi.
Pure Elegance will make its limited edition designs available through Modahouse.com. This targets both the growing and affluent Indian diaspora as well as culturally diverse global community living in the gulf region. Selected items are already available for purchase through the online store at http://www.modahouse.com.
About Pure Elegance
Pure Elegance is a fashion brand created in US for South-Asian women worldwide. Pure Elegance captures the essence of India and blends it with the best of contemporary West. Pure Elegance takes pride in its exquisite ethnic fashions like sarees, bridal lehengas, salwars, indo-western dresses, tunics and fashion jewelry that perfectly balance trends with tradition. Pure Elegance is the fastest growing brand for South-Asian fashion in US and has nearly forty thousand Fans on its Facebook Fan page.
About Modahouse.com
Modahouse.com is an online retail store providing exclusive products from leading luxury brands and designers covering entire fashion range including women's wear, men's wear, kids wear, shoes and accessories. Modahouse.com is based in Dubai and serves customers in the entire gulf region and beyond. Modahouse.com provides exclusive products from leading brands and designers, the latest trends in fashion, and celebrity styles from around the world.
###