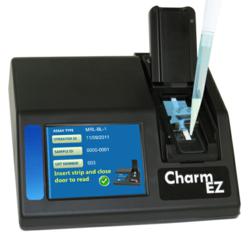 "The Charm EZ system is a game changer," says Hay Thijssen of MCS Diagnostics.
Lawrence, MA (PRWEB) November 18, 2011
Charm Sciences, Inc., (http://www.charm.com), in cooperation with MCS Diagnostics BV, (http://www.mcsdiagnostics.com), the Charm distributor for Germany, are pleased to announce that DMK Deutsches Milchkontor GmbH, the largest German dairy organization, is implementing the Charm EZ system from Charm Sciences. The Charm EZ system will be used at each plant to screen incoming truck loads of milk for beta lactams using the new MRL one minute beta lactam test. Plant testing will also include screening for other antibiotics such as tetracycline, streptomycin and chloramphenicol.
The Charm EZ system is the first combined incubator/analyzer that delivers milk test results in one minute.
"The Charm EZ system is a game changer," says Hay Thijssen of MCS Diagnostics. "One minute and two minute testing for antibiotics allows the dairy industry to reposition how milk is tested. The Charm EZ system sets a high mark for speed, precision, accuracy, and ease of use."
Field upgradable accessory options are available to enable wired, wireless or Bluetooth® networking capabilities for on the truck or in the plant use.
MCS Diagnostics BV will have the Charm EZ system implemented in all DMK plants before end of the year.
The Charm EZ system was formally introduced globally on October 17, 2011 in Parma, Italy, bringing state of the art engineering and research into the dairy world. DMK is the first company to already adapt the new technology after extensive testing. The new Charm EZ system allows the plants to test at all regulatory levels, including the EU MRL levels and the current Russian regulations.
The Charm EZ system is available internationally by calling +1.978.687.9200 or info@charm.com.
About Charm Sciences, Inc.
Charm Sciences is a world leader provider of food safety, water quality and environmental diagnostics. Charm's diagnostics portfolio includes test kits and systems for antibiotics, mycotoxins, pesticides, alkaline phosphatase, pathogens, end product microbial assessment, allergen control, water quality and ATP hygiene. Directly and through its network of distributors, Charm products serve the food, beverage, water, pharmaceutical, medical, personal care, environmental, and industrial markets in more than 100 countries. Customers rely on Charm products for excellence in quality, innovation and customer support. http://www.charm.com
About MCS Diagnostics BV
MCS Diagnostics BV is a specialist in supplying diagnostic tests and QA systems to the food, dairy, clinical and veterinary markets in the Benelux, Germany, Austria, and Switzerland. http://www.mcsdiagnostics.com
© 2011 Charm and ROSA are registered trademarks of Charm Sciences, Inc.
###