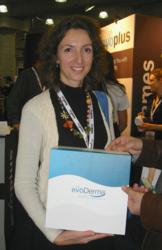 Skin care and hair removal company EvoDerma attracted quite the crowd at one of New York's most popular advertising and technology tradeshows.
Montreal, Quebec, Canada (PRWEB) November 18, 2011
The Ad:Tech New York advertising and technology show is one of the biggest and most popular of its kind. The biggest names in the business come out to network with other industry professionals who are showcasing new products and services. Ad:Tech was the perfect place for EvoDerma to showcase its new LUMI Intense Pulsed Light (IPL) home-based hair removal device. With guests such as Google, Yippy, Yahoo and AOL, this event was bound to attract bloggers, distributors and promoters alike.
EvoDerma set up shop at booth # 1738 at the Javits Convention Centre in Manhattan on the 9th of November. Five Limited Edition LUMI IPL devices were on display at the centrally located booth for the curious guests to explore. Anyone interested in discovering the new LUMI home-based hair removal device was invited to the booth for a demonstration from the lively EvoDerma Customer Care Specialists' team.
As part of their ongoing efforts to promote this new product, EvoDerma decided to organize a draw and give away these 5 LUMI IPL permanent hair removal devices to lucky Ad:Tech attendees willing to drop off their business card. The Win-A-LUMI-Draw would take place on day two of the trade show, hopefully giving all guests a chance to stop by and check out the fastest home based hair removal device on the market.
An EvoDerma representative present at the Ad:Tech show stated; "The interest in EvoDerma's LUMI IPL home-based hair removal device was astounding! There was quite the crowd on multiple occasions, especially when we announced the four lucky winners of the Win-A-LUMI-Draw. We are sorry to say that one the eligible winners were not present at the time to claim his/her prize despite several calls and a lengthy wait. The rules were you had to be present at the time of draw." The four winners present at 2 p.m. on November 10th each gladly took home a Limited Edition LUMI, which has a retail value of $650.
The four lucky winners of EvoDerma's Win-A-LUMI-Draw are:

Ming Chan of New York
Danielle Kramer of New York
Milena Badjova of New York
Damien Mozina of Miami Beach
All in all, this event was a success for EvoDerma, as many people discovered LUMI, the fastest hair removal device for home use on the market. This IPL hair removal system from EvoDerma is the ideal choice for the consumer who is looking to achieve permanent hair reduction in the comfort of their home. LUMI has been receiving positive feedback from consumers who have answered the call to banish unwanted hair, suggesting that LUMI by EvoDerma truly is "the future of personal hair removal". The EvoDerma LUMI is an affordable hair removal device, which can be purchased at http://www.evoderma.com. Visit the website for more details or call EvoDerma's customer care (1-855-EVO-DERM or 1-855-386-3376).
About EvoDerma
EvoDerma Inc. is a company whose objective is to provide cutting-edge hair removal and skin care products for the home. Its research and development department is continuously working to provide consumers with safe, cost-effective and technically advanced products for aesthetic treatments. The LUMI™ IPL hair removal device, EvoDerma's flagship product, is a testament to the company's commitment to quality, safety and efficiency.
###