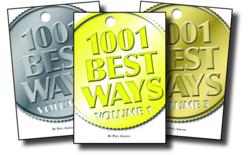 If you ask enough people the right questions, you're bound to get the right answer sooner or later.
Los Angeles, CA (PRWEB) November 17, 2011
Just in time for the holidays, 1001BestWays.com, which publishes the Best Ways to manage life's biggest challenges, announced 25 Best Ways To Cook, as submitted by its readers.
"If you ask enough people the right questions, you're bound to get the right answer sooner or later." That's the thinking behind 1001BestWays.com, which publishes its readers' Best Ways to raise children, save money, advance a career, fall in love, stay in love, and more. Their unedited responses are read daily by over 15,000 Twitter followers (@1001BestWays), the readers of 1001BestWays.com, and the buyers of the book series.
"1001 Best Ways is the lifetime experiences of hundreds and thousands of people", says publisher Paul Angles, "Every day, I am humbled by the collective wisdom people so willingly share."
Best Ways To Cook
Dunkable chocolate chip cookies
"I've found that adding an extra 1/2 cup of flour to my chocolate chip cookies makes them perfect for dunking in milk, or just eating plain. It makes them thicker than most chocolate chip cookies, but they remain soft and fresh longer."
Start clean
"Start with a clean counter and stove before you prepare the meal.. Organize and gather ingredients. Remember to clean between ingredients such as the "meat" and another ingredient to avoid cross contamination. Put the apron on and have fun."
Mmmm, cheesecake
"When making cheesecake, make sure you do not open the oven. Just bake the cake for as long as needed and then turn off the oven and come back after the cake has had a chance to settle. This will avoid cracking and sinking."
Cast iron pans
"I love my cast iron pans! I can brown a pot roast, add seasonings and beef broth to the pan, and pop the whole thing right into the oven. Afterward, give at quick scrub and heat briefly with some spray-on cooking oil, and it's ready for the next dish!"
Care and feeding of iron skillets
"When caring for your iron skillets and dutch ovens that are not coated with enamel, always oil them up after washing and drying them. This prevents rust and keeps it from getting in your food."
The secret to tender cubed steak
"No more tough and chewy cubed steak with the cooking secret that I have developed. You will need flour (of course) and a bowl of milk to batter your cubed steak with. Once the pan is ready to place the cubed steak onto it, I dip the steak into the milk for 30 seconds and then into the flour for batter and finally into the pan. This will honestly be the most tender cubed steak you can ever imagine."
Cooking for kids and adults at the same time
"My tip is about cooking for your baby and your entire family without feeling like you are a short order cook. Lets use soup for example, prepare all your ingedients at one time (chop veggies, cut meat, pre cook meat if desired) and then put two pots on the stove. One will be for the little one and one for the older children and adults - divide the ingredients and then you can add spices and other seasoning that you don't want your little ones to have to the adult pot and the children/baby pot can be better suited to their tastes. You have made two seperate meals without adding any cooking/prep time."
Soup secrets
"Sometimes when I make soup I find it better to let the water boil before adding the meat. It tends to cook more evenly this way. Before adding the vegetables I cook them in a separate pan. This way I can make sure that they are well cooked as well."
The fabulous wedding cake martini
"I make a delicious martini that I made up by accident. I was intending to make a cosmopolitan, however when I poured 1 1/2 ounces of vodka and an ounce of cranberry juice, I couldn't find any limes or lime juice. So, I used an ounce of pineapple juice and it was FABULOUS. I call it a wedding cake martini as it tastes like a liquid wedding cake. You should try it, it is really delicious."
Easy and cheap home-made pasta
"Making your own pasta is so cheap and easy. You do not need a fancy pasta cutter to do it. Put 1 cup flour per egg,(I usually use 2-3) in a pile on a table or rolling mat. Make a bowl in the flour. But in eggs and a table spoon or two of olive oil. You can also ad herbs as desired. Beat the egg working in the flour. As it gets thick knead the rest of the flour in. Roll out as thin as you like and cut with a pizza cutter. This pasta can be used for lasanga, or ravioli acordding to how you cut it."
Substitute!
"My secret is that I use substitutes for ingredients that I do not have readily available. I used to believe receipes had to be followed EXACTLY. But I have since learned that you can substitute everyday ingredients for a lot of products and still make a delicious meal."
Fat removal
"When you cook a soup, stew, etc, don't worry too much about some of the fatty ingredients. When the dish is done cooking, you can wrap and ice cube in a paper towel and skim the surface of the dish. The ice cube/paper towel combination will remove any excess fat floating around in the soup/stew."
Softer salisbury steaks
"For softer salisbury steaks, you must do one thing. brown both sides for 2 minutes on high. then cook on low with the lid on for 3 minutes on each side."
Pork chop recipe
"I have found out that my hubby loves when I cook pork chops and what I do is really simple. Start with 4 center cut bone in prok chops, slice up half a white onion, half each of a green, yellow, orange and red bell pepper, with 1/4 teaspoon of minced garlic. place all in a baking pan and pour 1/4 cup of Dales Seasoning marinade. cover with aluminum foil and bake at 350 for 45 minutes to an hour. Fix up some rice and you have a wonderful meal.:)"
Electric kettle pasta
"I use my electric kettle to boil water quickly, not just for tea, but for for any cooking that requires boiling water, like cooking rice or pasta, making instant potatoes, etc. It's so much faster than using the stove or microwave!"
Trade in teflon for iron
"It may not seem like something new, but the age-old iron skillet has brought rave reviews for my cooking. I grew up with iron skillets but for years, i always used teflon to cook for friends. I was given an iron skillet a couple of years ago, and the compliments increased dramatically! Now, i only use iron skillets and recommend them to one and all."
Chicken strips
"My secret is cutting chicken breast into strips dip in egg and bake in oven for about 45 min. great!!"
Easy egg replacement for the allergic
"My boyfriend is allergic to a lot of things, but one of his most troublesome allergies is eggs. It really limits the foods he can eat, but I discovered that instead of buying fancy egg replacement mixes, I can just use a tablespoon of corn starch and a small amount of water in place of an egg in a recipe. It turns out delicious, and now he can eat pancakes and cake again!"
Get the fat out
"To get the fat out of meat drippings is fast and easy to do without purchasing anything. Pour the drippings into a cool container and add ice. The ice will quickly harden either the fat or the broth, depending on the type of meat. Then skim off the fat and use the meat juice."
Emeril would approve
"I put Cajun seasoning on almost everything. From french fries to tomato soup."
Southern staple
"If you live outside the South, you might not have heard of sweet tea - it's a Southern staple! My recipe is to steep two Tetley black tea bags in half a pitcher of boiling water for five minutes. Add one cup of sugar and fill the pitcher with water, then serve over ice."
Cooking for groups of kids
"When preparing food for a group of kids, I like to keep it simple and fun. When my sons' friends visit for dinner, the best meal is pasta. I make a pot of spaghetti or rotini noodles, and set out 2 kinds of sauces that they can serve themselves. A caesar salad and a basket of Italian rolls rounds out the meal."
Tear-free onions
"How to slice an onion without any tears. First, cut the ends off the onion. Next, score the onion in a north to south direction. Pull off the outer skin. Finally slice or cut the onion."
How to tell if it's hard-boiled
"If you have both hard boiled eggs and uncooked eggs in your refrigerator but can't tell the difference. Just spin the eggs on the counter. The hard boiled eggs will keep spinning and the uncooked eggs will not."
Ditch the sauce
"The best cooking secret I have is to use herbs and spices to add flavor to dishes rather than sauces. Herbs and spices have lots of vitamins and minerals but few calories, so they add flavor and make your foods healthier."
The Story of 1001 Best Ways
Paul Angles, an Internet Marketing Director, was driving home from work, stuck in traffic, and thinking about ways to cut back on the family budget, when he heard a commercial for an Internet Service Provider--his Internet Service Provider!--offering new subscribers $20 off per month for the first year.
Suddenly inspired, he called them and asked for the new subscriber rate. He was promptly turned down. Undeterred, he asked the operator if he could cancel his account and restart it at the new rate. That did the trick. With less than 5 minutes work, he saved $240 without having to cut back on anything.
It was so much fun saving so much money that he began to wonder who else he could call. And which of his friends he could tell. And what ideas they might have. And how there ought to be a website that collected those great ideas and made them available.
Soon, he created 1001BestWays.com and began collecting Best Ways by the hundreds, posting them hourly on the website, tweeting them, and finally, collecting them into a series of books available in Kindle and in paperback on Amazon.com, BN.com, and many others. 1001 Best Ways, Volume 4, is scheduled for release in November 2011.
###