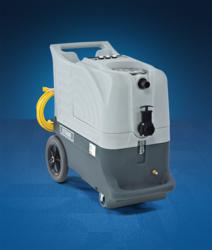 "The ET600 stands out from other carpet extractors with its unmatched flexibility."
Plymouth, MN (PRWEB) November 21, 2011
Advance introduces the ET600™ Portable Extractor, the newest addition to the company's line of carpet extractors. Providing superior heating capabilities, the ET600 ensures continuous heating of 212° degrees F solution to attack even the toughest carpet stains. The ET600 is available in two pressures—100 psi and 400 psi—to satisfy light duty cleaning and deep extraction requirements. A cost-effective, non-heated 100 psi model for simple restoration applications is also available.
The ET600 features a clam shell design, which allows for easy access and maintenance, while a 13-gallon solution tank enables users to tackle large jobs. Providing increased cleaning convenience, the ET600 offers self-contained storage for the power cord and a compartment for detergent bottles, hand tools and other cleaning accessories. Additionally, the heated models are equipped with exclusive circuit finder technology, which allows the machine to easily identify when it is plugged into separate circuits.
"The ET600 stands out from other carpet extractors with its unmatched flexibility," said Bob Abrams, Product Manager for Nilfisk-Advance. "Our customers can choose how they want to clean with the ability to select between multiple floor tools, hoses and cleaning accessories—allowing them to meet exact cleaning requirements while remaining within their desired budget."
All models of the ET600 meet green cleaning equipment requirements with Carpet and Rug Institute Seal of Approval (CRI-SOA) certification. CRI-SOA certification identifies effective carpet cleaning solutions that protect and maintain a facility's carpet life. CRI-SOA certification also indicates equipment meet requirements for Leadership in Energy and Environmental Design (LEED) certification and the Green Seal Standard for Commercial and Institutional Cleaning Services (GS-42). All models also feature CSA (Canadian Standards Association) and ETL (Intertek Testing Services) certifications, ensuring the ET600 complies with rigorous safety and performance standards.
The ET600 is ideal for markets requiring flexible, cost-effective carpet extraction, including but not limited to: contract cleaners, office buildings, hospitality facilities and government buildings and installations. With reliable, durable performance, the ET600 ensures increased productivity and superior cleaning results.
Advance is a brand of Nilfisk-Advance, Inc. For more information on the new Advance ET600 Portable Extractor, call 800-850-5559 or visit http://www.advance-us.com.
About Nilfisk-Advance
Nilfisk-Advance is one of the world's leading manufacturers and suppliers of professional cleaning equipment. With global company headquarters in Denmark, the company has developed professional cleaning equipment for over 100 years. Nilfisk-Advance has production facilities in North America, South America, Europe and China, has an extensive network of sales entities in 43 countries and is represented in more than 100 countries around the world. The company currently has over 5,000 employees worldwide, with global sales of over $1 billion USD in 2010. Its Americas headquarters are based in Plymouth, Minnesota.
###