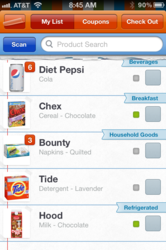 "No longer do you need to get out a pen and paper to plan your shop...you don't even need to open up the newspaper to save hundreds of dollars on your groceries."
Palo Alto, CA (PRWEB) November 18, 2011
Pushpins, Inc., a next-generation mobile coupon company, today announced a major update to its flagship grocery shopping app for iPhone and iPod touch that adds key new features such as Smart Lists, Instant Digital Coupons, Full Nutrition Facts, Shopping History and Aisle Sorting. Pushpins shoppers can use their lists anywhere and redeem coupons on their loyalty card in thousands of stores nationwide.
Smart Lists
Users can scan the barcode or search for products by brand, name or UPC, which can easily be added to their shopping list. Shoppers can then tap on a product to see instant digital coupons related to the item and full nutrition facts.
"No longer do you need to get out a pen and paper to plan your shop," said Jason Gurwin, CEO and co-founder of Pushpins. "You don't even need to open up the newspaper to save hundreds of dollars on your groceries. You can now plan, shop, and save on your groceries all in one simple app on your iPhone or iPod touch."
When users launch their shopping list in-store, Pushpins will automatically sort the items by aisle to help you get in and out of the store quickly and easily.
Instant Digital Coupons
With Pushpins, saving money on your groceries is quick and simple. While making a list or shopping in-store, Pushpins returns a list of coupons for those and related products, which customers can automatically add to their store-issued savings or rewards club card. At checkout, the customer simply swipes their store club card, and the savings are instantly deducted from the total and appear on the receipt.
"Redeeming paper grocery coupons is a hassle," said Peter Michailidis, co-founder and CMO of Pushpins. "With Pushpins, not only is it easy to find coupons on the items you love, but now you just need to swipe to save."
Pushpins easily links to users' Twitter and Facebook accounts, allowing shoppers to instantly share savings with friends. Shoppers will be able to redeem digital coupons in an additional 5,500 stores later this year.
Full Nutrition Facts
Pushpins delivers detailed nutrition information for shoppers to help them make smarter eating choices. Shoppers can see the nutrition label and ingredients for nearly 100,000 products.
Shopping History
When users have completed their shop, Pushpins will generate a digital receipt of the items they purchased during their shop. Over time, shoppers can then track the groceries they purchased, as well as the savings they earned on their shopping trips.
Pushpins is available for free from the App Store on iPhone and iPod touch or at http://www.itunes.com/appstore/.
About Pushpins
Pushpins is the next-generation mobile coupon company that brings smart lists, digital coupons, and nutrition all in one application. Pushpins, Inc. is based in Palo Alto, CA and is backed by Lightspeed Venture Partners. Pushpins was the #2 productivity application on iTunes and has been featured the Washington Post and Consumer Reports. http://www.pushpinsapp.com.
###