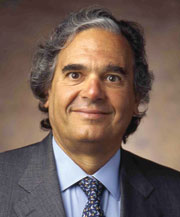 Bethesda, MD (PRWEB) November 18, 2011
Carlo M. Croce, M.D., the winner of the 2008 Szent-Gyorgi Prize for Progress in Cancer Research, presented annually by the National Foundation for Cancer Research, has been named to the prestigious Institute of Medicine (IOM) of the National Academies for his work in genetic cancer research.
A top honor in the field of health and medicine, the IOM recognizes individuals who have demonstrated outstanding professional achievement in the advancement of medical science, healthcare and the public health, as well as an exceptional commitment to service.
"It is a true honor to be named among some of the brightest and most respected scientists in my field to the Institute of Medicine," said Dr. Croce. "Cancer research is an ever-changing field of study, and, like my colleagues, I am dedicated to the challenge of cracking the code of cancer piece by piece. I look forward to further discoveries we will make on our journey towards a cure."
Dr. Carlo M. Croce, director of the Ohio State University Medical Center's Institute of Genetics, was named a member of IOM for his discoveries surrounding microRNA, which led to a greater understanding of the role of genes in cancer development. This work guided later research that determined cancer is caused by an alteration in genes, revealing that tailoring cancer treatments to patients on a personal level will be the most effective way to treat cancer.
In 2008, Dr. Croce was awarded NFCR's Szent-Gyorgi Prize for Progress in Cancer Research for his revolutionary work on microRNA and his outstanding discoveries regarding the direct and causative impacts of chromosomal translocations on the molecular mechanisms of oncogene activation. He was the first to use chromosomal translocations as genetic earmarks to identify and isolate important oncogenes and tumor suppressor genes, such as BCL2, ALL1 and LZTS1, which revealed critical signaling pathways for cancer initiation and progression.
In addition to his roles at the Institute of Genetics and Comprehensive Cancer Center, Dr. Croce serves as the chair of the department of molecular virology, immunology and medical genetics at Ohio State University.
About the National Foundation for Cancer Research
The National Foundation for Cancer Research (NFCR) is a leading cancer research charity dedicated to funding cancer research and public education relating to cancer prevention, earlier diagnosis, better treatments and, ultimately, a cure for cancer. NFCR promotes and facilitates collaboration among scientists to accelerate the pace of discovery from bench to bedside.
Since 1973, NFCR has provided over $288 million in support of discovery-oriented cancer research focused on understanding how and why cells become cancerous, and on public education relating to cancer prevention, detection, and treatment. NFCR scientists are discovering cancer's molecular mysteries and translating these discoveries into therapies that hold the hope for curing cancer. NFCR is about Research for a Cure—cures for all types of cancer. For more information, please visit http://www.NFCR.org.
###