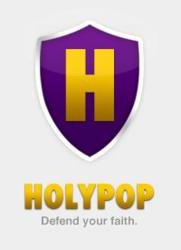 Christianity has successfully reached the ends of the earth, but the internet the last major opportunity we need to take advantage of. We're doing that with Holypop.
Orlando, FL (PRWEB) November 17, 2011
Christian technology startup, Holypop.com, the next generation of Bible Study and Faith-based knowledge, are celebrating their milestone of 35,000 users, 135,000 pageviews and 10,000 Twitter followers in their first year of operation. 2011's goal was to build up a large array of content, and that goal was easily met as Holypop received support from Dr. Elmer Towns, co-founder of Liberty University. With a successful first year coming to a close, they look to the future.
Holypop's Founder & CEO, Chris Carberg, is ready to build on this initial success as Holypop enters into a new phase of product development and expansion. "The Bible is the centerpiece of successful living and is being ignored in our digital society. Sometimes it's purposeful, other times, its simply out of a lack of modern convenience," Carberg said. "Young Christians live a majority of their time tied to technology, so we're creating innovations that integrate the Bible into everyday life, making it easier to study the Bible."
The organic growth of Holypop is another aspect that flies in the face of modern theory, by not spending piles of cash needlessly. The site counts on its users to spread the word for them.
"We can't waste money. It's not in our best interest, it's not what God wants us to do as stewards and so we have to be creative. Holypop users visit our site because they hear about it from a friend, see it in an article or mentioned on a radio show", Carberg said. "The best way to expand in 2012 is to create a product that people want, and let them determine who hears about it. Our fans are very vocal about what they like and don't like."
The Holypop 2012 Year of Expansion plan includes developing interactive Bible Study and Prayer software tools that connect with Facebook & Twitter, native iPhone/iPad and Android mobile applications, and a continuously growing mountain of dependable biblical content. Holypop is also in the initial discussions with some investors who see the potential in its platform as a powerful hub for Christians.
Carberg takes a impassioned tone when asked about the future, "We're ready to fight, tooth and nail, and compete to provide the solutions for Christians hungry for interactive faith-based media. This is what Jesus called us to do, at whatever cost. That's the reality of the Great Commission."
###