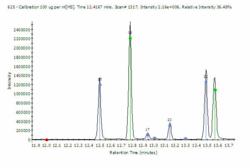 "AnalyzerPro has a solid track record in comparative studies of LC/MS samples found in metabolomics, environmental samples, and in this case study, biofuel."
Evans Mills, NY and Gananoque, ON (PRWEB) November 19, 2011
Attendees to "Data to Knowledge", a recent meeting jointly organized by the Royal Society of Chemistry Molecular Spectroscopy Group and the British Mass Spectrometry Society, learned how to speed up data analysis of complex LC/MS data.
In a case study focusing on biofuel analysis, SpectralWorks revealed how AnalyzerPro extracts component information, removes matrix interferences, and objectively simplifies comparison of such complex multi-component samples as biofuel.
"AnalyzerPro is ideal for studying complex mixtures in mass spectrometry," says Tim Hawkins of FarHawk Marketing Services. "It has a solid track record in the comparative studies of LC/MS samples found in metabolomics, environmental samples, and in this case study, biofuel."
Comparison of Biofuel LC/MS data
In the biofuel case study, AnalyzerPro was applied to Orbitrap LC/MS data of samples subjected to various aging intervals. A raw fresh biofuel sample, a lightly aged biofuel sample and a heavily aged sample were compared. Forty nine components were found in the fresh biofuel sample. Thirty one components were found in the lightly aged sample, and one common component was found in the heavily aged biofuel sample.
The procedure is simple and automated. First, the LC/MS data files were submitted to AnalyzerPro to extract individual component information from the background. A component library comprised of all individual component spectra found in the data files was automatically generated. The component library was reviewed by the Matrix Analyzer feature of AnalyzerPro, compensating for any shifts in response or retention time due to background effects.
Samples were compared against the component library to identify components in the sample that were in the component library, identify components that were in the sample but not in the component library, and to define components that were not in the sample and in the component library.
Future samples can be sequentially and automatically evaluated through this component library.
Quantitation of LC/MS Data
Relative quantitation between samples was the object of this particular study. For more accurate quantitation, AnalyzerPro works well when internal standards are inserted in the sample.
Identification of Individual Components
Components may be unambiguously identified by comparing the spectra against the main library or a user generated library in the exact mass compatible NIST 11 Mass Spectral Library. The NIST Mass Spectral Library is fully integrated with AnalyzerPro data mining software.
About AnalyzerPro
AnalyzerPro mass spectrometry software is developed and produced by SpectralWorks Ltd. FarHawk Marketing Services is the distributor for North America.
About SpectralWorks Limited
SpectralWorks Ltd is a leading UK based software development company. They are dedicated to providing innovative solutions targeted for markets within the life sciences industry and have strong working relationships with a number of the major instrument manufacturers. Coupled with their collaborations with academia and industry, they have the right balance between scientific and software development expertise to provide the best scientific solutions for the end user. In addition to a wide range of mass spectrometry software products, they provide highly respected consultancy services. These services are able to cover the complete software development cycle or specific steps within a project life cycle. These services are frequently utilized by instrument vendors and end users that demand the best for their laboratories.
About FarHawk Marketing Services
Founded in 1999, FarHawk Marketing Services provides sales and distribution of analytical laboratory products, focusing especially on mass spectrometry. With close to 70 years combined experience in sales and marketing in instrumentation and high technology, FarHawk offers valuable insights, products, and ideas to the mass spectrometry market.
###