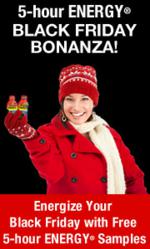 (PRWEB) November 17, 2011
Black Friday is just around the corner, which means great deals, extended store hours, and determined shoppers. It is inevitable that shoppers' energy will start to wane after hours of standing in line and searching for the best sales. This is why 5-hour ENERGY® will be energizing shoppers this Black Friday at Walmart stores across the country.
Shoppers needn't miss out on Black Friday deals because of exhaustion. They can enhance their Black Friday experience with 5-hour ENERGY® and keep the shopping spree rolling. Bright eyed and alert samplers will be handing out free 5-hour ENERGY® at these participating Walmart stores from 10:00 p.m. through 1:00 a.m. this Black Friday.
In addition to keeping shoppers energized, 5-hour ENERGY® is excited to announce its Black Friday Bonanza Contest. The contest asks enthusiastic shoppers to document their Black Friday experience. Entering the contest is simple. All shoppers need to do this Black Friday is, take a photo of the goods along with the 5-hour ENERGY® that energized them through the day. In the rare event that they don't find anything, that's Ok too. Participants can still submit their picture with their 5-hour ENERGY® anyway! The photo must include a 50 word message describing their shopping experience. Stories about overnight camp outs, or long road trips, or strategic huddles to get the best deals are welcome! 5-hour ENERGY® will pick 25 lucky winners, who will receive a $50 Walmart gift card, a 12-pack of 5-hour ENERGY® and a 5-hour ENERGY® Hat. The 5-hour ENERGY® Black Friday Bonanza Contest starts November 17 and runs through November 29. Submit photos and messages to the 5-hour ENERGY®'s contest page or 5-hour ENERGY® Facebook page.
Black Friday brings early mornings together with great bargains, but the huge crowds and anxious shoppers waiting in line present significant safety issues. Please remember to be safe and courteous this Black Friday. Happy Shopping!
About 5-hour ENERGY®
5-hour ENERGY® is a liquid energy shot that provides hard working adults with hours of energy and alertness. It contains a blend of B-vitamins and amino acids, zero sugar and four calories, packed into less than 2 ounces. To learn more about 5-hour ENERGY® and find out when our next contest kicks up, visit any of the following channels:

###