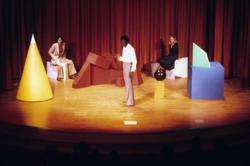 Los Angeles (PRWEB) November 17, 2011
MartinMPR is pleased to announce news and events that reflect the firm's strength in the arts and culture. MartinMPR is a boutique marketing company providing highly personal service to individuals and organizations that value creativity, polish, and visual sophistication. With more than thirty years as communications consultants specializing in the arts, the firm has worked with seminal artists, architects and designers, galleries, creative enterprises, museums, foundations, and civic and community organizations to formulate strategic marketing initiatives and public relations campaigns. For further information visit: martinmpr.com.
The fall art season is in full swing and our clients are the thought-leaders, artists, and curators behind major initiatives in Los Angeles and beyond.
Los Angeles Municipal Art Gallery Associates announce the upcoming exhibition, Civic Virtue: The Impact of the Los Angeles Municipal Art Gallery and the Watts Towers Arts Center, opening December 15th with a reception hosted by the Associates that is free and open to the public. The exhibition, curated by Pilar Tompkins Rivas, showcases the work of the artists, curators, and community activists whose contributions enhanced the culture of our city and helped to define Los Angeles as an international artistic center. Included in the exhibition, which spans close to a century of art history, are more than 130 works by artists who shaped Southern California's destiny as an art capital. Part of Pacific Standard Time: Art in L.A. 1945–1980. Visit: http://www.lamag.org.
Hyphen Media announces the publication of An Artist for President by Susanna Bixby Dakin. It was 1984. Ronald Reagan was running for his second term. His administration was pursuing what would become a relentless, multi-decades long retreat from democratic ideals. Susanna Bixby Dakin "biography of an event" explores her "outrageous" notion that artist-citizens could reverse that oh-so-subtle nullification of government by and for the people. Susanna Dakin, sculptor, performance artist, and publisher of the seminal High Performance magazine declared with the Federal Elections Commission as an Artist/ Candidate for president! This YouTube video gives you an idea of Susanna's wry humor and pointed political commentary. For review copies: editor(at)hyphenpublishing(dot)com.
Some Serious Business will present Robert Wilson's I WAS SITTING ON MY PATIO THIS GUY APPEARED I THOUGHT I WAS HALLUCINATING, directed by Wilson and renowned choreographer Lucinda Childs as part of the Getty's Pacific Standard Time Performance and Public Art Festival. PATIO premieres at REDCAT on January 26, 2012. Some Serious Business (SSB) is a nonprofit art organization founded by Nancy Drew, Elizabeth Freeman, and Susan Martin. Between 1977 and 1980 Some Serious Business produced more than fifty performance from a full-scale Orgies Mysteries Theatre production by Viennese Actionist Hermann Nitsch deep in the heart of Venice to John Cage's Empty Words at the Los Angeles County Museum of Art, from Laurie Anderson's premiere in L.A. at Otis Art Institute to the first exhibition of work by Jenny Holzer and Louise Lawler, and from punk rock concerts on Hope Street to a performance by the Philip Glass Ensemble at the Roxy on the Sunset Strip. Become a fan on Facebook.
About Susan Martin and MartinMPR
Martin is the owner of MartinMPR, a marketing and public relations firm specializing in the arts and culture and director of Some Serious Business, a nonprofit producer of performance events. She began her career in the arts in the early 70s at Sotheby's and later founded the G. Ray Hawkins Gallery, the first photography gallery in Los Angeles. In 1976, she co-founded Some Serious Business, producing the performances in Southern California with seminal creators like Laurie Anderson, Philip Glass & Ensemble, Nam June Paik, Herman Nitsch, William Wegman, Lawrence Weiner, and Robert Wilson.
Martin established her public relations firm in early 1980s New York, representing prestigious galleries, cutting-edge nightclubs, artists, and issue-oriented nonprofits. She was the architect of Art Against AIDS, a national fundraising effort for the American Foundation for AIDS Research (AMFAR) with Elizabeth Taylor as National Chair. She also formulated public relations campaigns and fundraising benefits for wide-ranging organizations like Amnesty International and Kenny Scharf's "Don't Bungle the Jungle" featuring Madonna; cutting edge nightclubs like Pyramid Cocktail Lounge and Danceteria; record labels; theater companies and presenters like The Kitchen, La Mama ETC, the Wooster Group, and Meredith Monk; contemporary art galleries, and influential creators in art, music, and design.
Returning to Los Angeles in 1990, Martin was managing editor of Smart Art Press, publisher of books and catalogues on art and social history; communications director for the citywide World Festival of Sacred Music—Los Angeles, instigated by His Holiness the Dalai Lama; editor of two exhibition catalogues for chief curator Paul Schimmel of the Museum of Contemporary Art, Los Angeles; marketing director for UCLA Performing Arts (UCLA Live!) under the leadership of David Sefton; and special events and public relations counsel for the City of Santa Monica Cultural Affairs Division.
Martin has been marketing and communications counsel to the Centre Pompidou Foundation, creating an identity and branding for this important group of high level American collectors and has also advised important civic, educational, and cultural organizations including Metro Creative Services / Metropolitan Transportation Authority of the County of Los Angeles; the Development Division of the Otis College of Art and Design; California Institute of the Arts; Museum of Contemporary Art, Los Angeles; Southern California Institute of Architecture (SCI-Arc}; Santa Monica Museum of Art, and SITE Santa Fe. She also planned and executed a media campaign and private party for the Los Angeles County Museum of Art for the first-ever retrospective of the twentieth century design legend, Ettore Sottsass.
In New Mexico, Martin was marketing director for Los Desaparecidos/The Disappeared Collaborative Project, one of the largest community-based cultural events in Northern New Mexico history, as well as for SITE Santa Fe's Fifth International Biennial—Disparities and Deformations: Our Grotesque—organized by former Museum of Modern Art curator Robert Storr. Martin has extensive experience with groundbreaking cultural creators and curators. For Dean Sakamoto—architect and Director of Exhibitions at Yale University's School of Architecture Gallery—Martin created a public relations campaign centering on Hawaiian Modern: The Architecture of Vladimir Ossipoff curated by Sakamoto.
Martin's diverse areas of interest and expertise do more than simply co-exist: they are the foundation for a deep understanding of the role of arts and culture in contemporary society. She lives in Los Angeles and New Mexico.
###