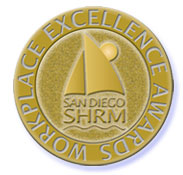 San Diego, CA (PRWEB) November 18, 2011
Matrix Direct, Inc., a nationwide leader in direct-to-consumer term life insurance products, was awarded a Grand Prize for workplace excellence by the San Diego chapter of the Society for Human Resource Management. The company was recognized for its innovative business solution in creating a "Sales Talent Life-Cycle Program" for employees during ceremonies held earlier this month.
Matrix Direct President and CEO Ron Harris said the prestigious award recognizes his company's continuing efforts to attract, hire and retain the most talented workers through innovative training programs and other employee initiatives.
"Our new recruits are becoming productive faster than ever before," Harris said. "Employee retention has increased and we are setting new sales records, all in a challenging economic climate."
Company Recognized for Innovative Training Program
Matrix Direct's new training program focuses on talent acquisition, interviews and evaluations, along with career path training and development. The new interview and evaluation process incorporates a competency-based interview model based on core characteristics of top sales team members. Classroom instruction and hands-on training help bring entry-level and mid-level workers up to speed and into senior sales positions faster.
Matrix Direct, founded in 1995, has over 250 employees in San Diego and also maintains an office in Schaumburg, Illinois. The company won the top award for mid-sized companies with between 150 and 629 employees.
The Workplace Excellence Awards were created in 2000 as an opportunity to educate business leaders on the value and contribution that exceptional human resources practices can make to the success and profitability of an organization.
About Matrix Direct
Matrix Direct, Inc. is one of the country's leading life insurance agencies. Over five million Americans have contacted Matrix Direct for the best term life insurance quotes. Matrix Direct, Inc. is a subsidiary of American General Life Insurance Company, Houston, TX and an affiliate of The United States Life Insurance Company in the City of New York, NY, NY. Agency services provided by Matrix Direct Insurance Services in CA (#0B57619), ME, MA, and OK; Matrix Direct Insurance Agency, Inc. in UT; and Matrix Direct, Inc. in AR(#246412) and all other states, except SD.
###