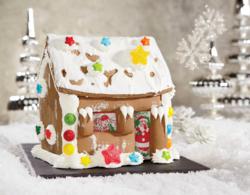 The Swiss Colony Gingerbread House program delivers a dose of holiday cheer and bit of the winter wonderland right to a child's hospital bedside.
Monroe, Wisconsin (PRWEB) November 21, 2011
One of Swiss Colony's tastiest giving traditions turns 20 this year – a "gift that gives back." Simply order a box of 72 Petits Fours (item #AW025), and The Swiss Colony (http://www.swisscolony.com) will send a pre-made Gingerbread House to a hospitalized child in the region where the gift is sent at no extra charge. It's a great way to please those hard-to-shop for folks on everyone's holiday list, while making a sweet gesture of kindness to child who can't be home for Christmas.
"This is a program that's close to the heart of each of us at The Swiss Colony," says John Baumann, president of The Swiss Colony. "The hospital can be a scary place for a child – and an especially lonely one around the holidays when they know their friends will be out with family enjoying all the fun of the season. These Gingerbread Houses bring a dose of holiday cheer and bit of the winter wonderland right to their bedside."
Through their partnership with the National Association of Children's Hospitals and Related Institutions, Inc., The Swiss Colony has been donating Gingerbread Houses since 1991. By the end of 2011 Swiss Colony will have delivered 200,000! Baumann says, "That's a Christmas tradition both gift giver and receiver can be proud of."
In fact, Swiss Colony includes a card with the petits fours to let the gift recipient know that a Gingerbread House has been sent to a child in need, in their name. Plus, a "Thank You" card will be sent to the gift recipient from the hospital to recognize their donation to these special children at Christmas.
The Gingerbread House Program combines two of the most recognized, and taste-tempting Christmas culinary traditions:
Petits fours no one can resist – from the company that made them famous! The festively wrapped Petits Fours (item #AW025) includes a tempting assortment of 72 of Swiss Colony's signature, hand-decorated, confection-size petits fours in six mouth-watering flavors: Royal Vanilla, Carrot Spice, Strawberry Shortcake, Lemon Mist, Red Velvet and Chocolate Fudge.
The Swiss Colony helped bring petits fours to the American public in the late 1950s thanks to Meister Konditors (master pastry chefs) recruited from Europe. These chefs brought the French tradition of miniature cakes made from the versatile "Génoise" cake of Genoa, Italy with them.
The iconic petits fours feature multiple layers of moist, buttery cake, layered with rich butter crème and blanketed with exclusive Swiss-blend chocolate or Swiss crème. Each is still decorated by hand for a one-of-a-kind creation that temps the eye and pleases the palette like no other.
Each gingerbread house, which includes a half-pound of Christmas candy, is sent to the special child in a bright gift box. These houses follow the childhood gingerbread decorating tradition that dates back to the Christmases of the middle ages. Brightly colored and whimsically decorated, they add a healthy dose of holiday cheer while delivering prescription strength sweet-tooth satisfaction.
About Swiss Colony
The Swiss Colony is a family-owned Wisconsin company that has been creating award-winning food gifts for 85 years. The Swiss Colony insists on the highest quality ingredients for a large selection of festively packaged gifts for every occasion. Exclusive recipes developed by their European Master Bakers and hand-decorated novelties like no other are just two of the reasons customers include The Swiss Colony as part of their holiday traditions year after year.
###