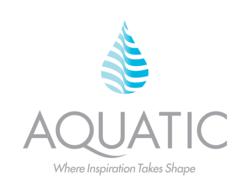 Our courses provide industry participants with important and practical information they can use every day, whether designing or building single- or multi-family homes, hotels, dorms, senior living facilities or any other structure with bathware.
Anaheim, Calif. (PRWEB) November 17, 2011
Architects, designers, contractors, builders, remodelers, mechanical engineers and code officials now can easily keep up-to-date on accessible bathware and the benefits of various hydrotherapy systems, thanks to free and accredited, continuing education courses by Aquatic.
Staying abreast of the latest developments pertaining to accessible bathing and hydrotherapy is especially important today as the Baby Boomers – those 80 million "kids" born between 1946 and 1964 – come into their retirement years and plan for the next phase of their lives. Many are choosing to remain in their homes – to age-in-place – so they are remodeling bathrooms with universal fixtures for greater comfort and convenience now and in case their mobility becomes limited in the future.
The world leader in innovative and inspirational bathware, Aquatic is renowned for its expertise in the design, manufacturing and installation of outstanding accessible and hydrotherapy showers and tubs. The company's three product lines include one devoted exclusively to accessible bath fixtures and another focused on whirlpool and air bath products, which are widely regarded as the best in the industry.
Aquatic offers two courses available either online through Hanley Wood University or as one-hour sessions (including breakfast or lunch) held at customers' showrooms, professional/trade associations' offices or other convenient locations.

"Accessible Bath Fixtures" covers: the need for, key features of and potential installation issues with accessible bath fixtures; end-user benefits based on product size and design; code issues affecting choice of material and fixture type and their impact on floor construction; and long-term maintenance, safety and liability concerns.
"Health and Welfare Benefits of Home Hydrotherapy Systems" educates building industry professionals about hydrotherapy systems so they can work more effectively with clients to identify the best system for their needs, based on age, intended use, design preferences and available space. Also covered are the health benefits associated with each type of system and design considerations for both retrofits and new construction.
Whether taken online or in person, both courses are approved for one "Health, Safety & Welfare" (HSW) continuing education credit each by the American Institute of Architects, American Society of Interior Designers and the Interior Design Council for Continuing Education. The National Kitchen & Bath Association gives one HSW credit for in-person sessions. The average person can complete each self-paced, online course in a single 45- to 60-minute session, although some people take more time, starting and stopping as their schedules permit.
"Our courses are proving to be very popular because they are purely educational – they are not promotional or product-oriented at all," said Jim Bollinger, Aquatic's National Sales Manager, Commercial and Hospitality. "We give a wide spectrum of industry participants important and practical information they can use every day, whether designing or building single- or multi-family homes, hotels, dorms, senior living facilities or any other structure with bathware."
While continuing education courses are a great way to keep abreast of new developments and trends, they often are required for license renewal for some types of industry professionals. For example, California now requires architects to take eight hours of continuing education classes on accessible products every two years.
Highly knowledgeable Aquatic experts, with a combined 75 years of industry experience, have developed content for the courses and lead the offline sessions. In addition to Bollinger, course leaders include: John Simoncini, Western Region Specification Manager who also is a Certified Aging in Place Specialist (CAPS), a credential awarded by the National Association of Home Builders to industry professionals who complete training to help people remodel their homes for aging in place safely and comfortably; and Gil Allen, who for many years was the company's Senior National Specification Manager for Commercial, Hospitality and Healthcare and now is a consultant on accessible products. Selected sales representatives around the country sometimes lead the courses, as well.
For more information about the online courses and to register, visit: 1) the "Continuing Education" page on Aquatic's website, http://aquaticbath.com/help/aia-learning.aspx; or 2) go directly to http://www.hanleywooduniversity.com and find the Aquatic courses by using the search box on the left side of the homepage. To arrange for Aquatic-led, in-person, continuing education courses, contact John Simoncini, 714.863.0373, jsimoncini@aquaticbath.com or a local company sales representative.
About Aquatic
Born from the 2010 merger of Lasco Bathware and Aquatic Whirlpools, Aquatic is the world leader in bathware, offering the broadest and most inspiring selection of tubs, showers and accessories. The company's Hydrotherapy, Everyday and Accessible lines include more than 300 superbly designed and engineered products for virtually every need. Based in Anaheim, California, Aquatic serves distributors, builders, architects, designers and consumers through a nationwide network of state-of-the-art facilities for manufacturing, distribution and support. For more information, visit http://www.aquaticbath.com.
# # #