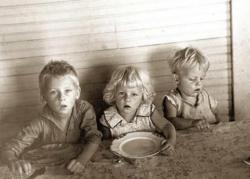 When the kids look down at their feet they see nothing but a worn out shoe which represents their level of hope for their life...Let's change that.
Charlotte, NC (PRWEB) November 18, 2011
With over 70,000 volunteers from around the world, Samaritan's Feet has washed the feet and donated shoes to around 3,000,000 people in 40 countries. Along with its efforts to donate shoes and socks to homeless children throughout the world, volunteers for Samaritan's Feet historically wash the feet of the less-fortunate and give a message of hope as the footwear is given. The Kicks for Kids Project will be no exception. "Samaritan's Feet is the pillar of hope to some of the 1.5 million homeless children in America," explains DoingMyPart's Co-Founder Mike Spencer. "We are honored to be working alongside an organization that brings such a positive influence to our youth."
According to Samaritan's Feet, an estimated 300,000,000 people live daily without proper footwear, and around 1,000,000 die each year as a result of foot-borne illnesses that may be preventable by simple protection – shoes. According to DoingMyPart.com, there is an estimated 140,000 homeless and underprivileged children around the project location of Charlotte, many of which, it can be assumed, without adequate footwear.
DoingMyPart.com's philosophy of strength in numbers, rather than strength of means is at the forefront of their fund-raising efforts, as heroes are made with $3 donations to the Kicks for Kids Project. Heroes will be able to follow regular updates of the project and both DMP heroes and the DoingMyPart Street Team will be encouraged to help plan, volunteer and execute the actual event with Samaritan's Feet. For more detailed information of The Kicks for Kids Project or to participate please visit http://www.doingmypart.com.
###