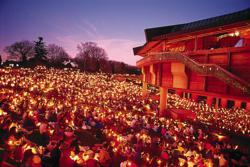 Vienna, VA (PRWEB) November 17, 2011
Please Consider this Annual Event for December Calendar Listings and Holiday Round-Up Guides
Wolf Trap's Free Annual Holiday Sing-A-Long Caps 40th Anniversary Season
-December 4, 2011 at 4 p.m. at The Filene Center -
What:
Wolf Trap's Holiday Sing-A-Long, an annual musical celebration featuring "The President's Own" United States Marine Band and a Sing-A-Long of Christmas carols and Hanukkah songs with a 400-member choir representing vocal groups from the metropolitan Washington D.C. area. Parking and seating are first come, first served at this free event. Donations of new, unwrapped toys will be gratefully accepted at the park entrance for Toys for Tots.
When:
Sunday, December 4, 2011 @ 4pm
Where:
Wolf Trap National Park for the Performing Arts
1551 Trap Road
Vienna, VA. 22182
Who:
Open to the public, revelers, carolers, Wolf Trap lovers and festive season enthusiasts! Attendees are encouraged to bring their own bells and candles to participate in the "Jing-A-Long" during the singing of "Jingle Bells" and a candlelight recessional during the last verse of "Silent Night."
Why:
To carry on the tradition set forth by Wolf Trap's founder, Catherine Filene Shouse who regularly invited local church choirs to her house to sing Christmas carols and share in holiday cheer. The tradition has since evolved into a much-anticipated gathering at the Filene Center featuring volunteer singers from community churches and choral groups rejoicing in the company of hundreds of area families.
Contact: Graham Binder; 703-255-1917; grahamb(at)wolftrap(dot)org
###