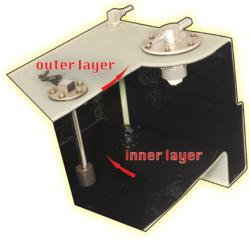 Acting now if you haven't alreay done so is essental.
Sparta, TN (PRWEB) November 29, 2011
Staying competitive in a challenging business environment requires extreme attention to detail. Recent calls to Moeller Marine's OEM support lines show that many recreational boat manufacturers have missed a significant detail about marine fuel tanks. Specifically, new environmental regulations from EPA and the state of California designed to reduce emissions to the environment are imminent, and failure to comply can be catastrophic.
Significant new regulations dealing with evaporative emission requirements in marine fuel tanks and fuel systems are on the horizon. According to Gary Eich, Director of Operations at Moeller Marine, "The major changes to fuel systems center around reducing the permeability of the fuel tank, eliminating open tank venting, and reducing the potential for spillage during refueling."
Eich further explains, "We believe the requirement is for barrier conversion to be 100% complete by January 1, 2012. Further, conversions to diurnal systems need to be finished by July 1, 2012 based on our best available information. If your fuel systems are not compliant, you may not be able to deliver new boats after these dates."
Converting existing fuel systems requires some time. Earnie Cook, Director of Product Development at Moeller Marine, advises that, "A tip study must be done, some system design is the norm, and hardware must be selected. From a tank design perspective, conversion requires the addition of a few ports in the tank for required hardware or the addition of barrier materials."
Moeller Marine, a leading manufacturer of permanent and portable gas tanks for OEM and aftermarket applications has been testing, redesigning and producing barrier lined tanks since late in 2009. George Moore, also of Moeller, notes, "The normal cycle for this type of conversion project is four to eight weeks, depending upon your fuel system integrator and their current workload."
The critical steps include design review, obtaining information from the system integrator, drawing preparation and approval, tooling revisions, and generating a prototype piece for further review and approval.
Given the rapidly approaching deadlines, firms are well advised to make sure that their fuel tanks and systems meet the new EPA and California state requirements so that their business is not interrupted.
"If you have any questions about the new requirements, please contact Moeller Marine," says Eich. "We have the capabilities to assist in your redesign. If you are an existing Moeller Marine customer, contact your Regional Sales Representative. Both OEM and aftermarket firms need to be up to speed on the new legislation, which applies to both portable and permanently installed tanks.
Note: Moeller Marine barrier lined tanks have the required certifications necessary to be introduced into commerce. Moeller plastic tanks are non-corrosive and long lasting.
Moeller Marine Products is the largest manufacturer of rotationally molded, injected, and thermoformed parts in the recreational marine industry. Moeller Marine Products provides virtually every boat builder with their plastic fuel tank requirements, ranging from bass boats to ski boats to offshore salt water fishing boats.
Moeller Marine is a division of The Moore Company, founded in 1909 and still focused on innovation. Sister divisions include Moeller Plastics, Darlington Fabrics, The George C. Moore Company, Fulflex, and AMER-SIL.
The Moore Company continues to manufacture products in the United States. International manufacturing facilities complement domestic capabilities while serving regional markets around the globe.
###