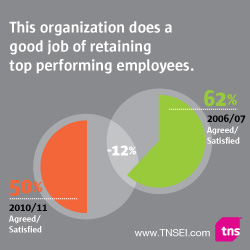 Top performers have had it with stagnant opportunities and are starting to jump ship
Chicago, IL (PRWEB) November 21, 2011
In the sea of relatively neutral economic news last month, the Department of Labor monthly Jobs Report stated that the number of people who voluntarily left their job increased from 967,000 in September to 1,070,000 in October, up from 845,000 a year ago. While talented employees are out looking for other opportunities, recent research from TNS Employee Insights shows that organizations are spending more time trying to identify ways to keep their top talent from walking out the door.
In an effort to put the focus back on employee retention, employers are looking to the experts for answers. TNS Employee Insights Senior Researcher Pat Sikora Ph.D. concludes that "normative data shows that top performers have had it with stagnant opportunities and rewards, and are starting to jump ship now that the job market is a bit looser". Employee engagement scores related to rewards and opportunities dropped by an average of 8% in recent years*. "This data reflects the pent up demand of employees to want more than what they have." says Pat. "The key to retaining top talent therefore is simple: move the needle and increase employee engagement."
Recent survey data from over 140 companies shows that most organizations are failing to retain top talent. With retention scores falling 12% in recent years*, organizations are looking to their HR professionals to help fill the gap in the budget caused by increasing recruitment and training costs. Employee research company TNS Employee Insights hosts complimentary webinars to help HR professionals with issues such as employee retention. Their December 6th webinar, "How to Retain Top Talent: Moving the Needle in Employee Engagement" provides strategies for retaining top performers and insight into the potential ROI of moving the engagement needle in the right direction.
Organizations move the needle by:

Eliciting and Measuring Employee Voice
Developing Inspiring Leaders
Creating and Building Effective Teams
Enabling Organizational and Individual Change
Competitive organizations must recognize the value of their current employees. As 2011 draws to a close, employers and experts alike will be paying close attention to the upcoming Jobs Reports, employee engagement data, and employee research to develop successful employee retention strategies and increase profits in 2012.
The complimentary HRCI approved webinar titled "How to Retain Top Talent - Moving the Needle in Employee Engagement" will be held on Tuesday December 6, 2011 1:00 - 2:00PM CST. Register at http://www.tnswebinars.com.
About TNS Employee Insights:
TNS delivers global employee research and HR services including customized employee surveys, customer surveys, and post survey consulting. TNS leverages decades of customer and employee research experience to help large organizations measure the vital link between employee engagement, customer satisfaction and business performance.
Source: Data and research provided by TNS. TNS provides complimentary statistics to the media including researchers, publishers, writers, and editors by submitting a request to http://www.TNSpress.com
###