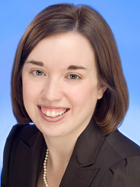 (PRWEB) November 18, 2011
Preti Flaherty is pleased to announce that Patricia M. Jeray has joined the firm as an associate. Jeray will practice Business Law from the firm's Concord, NH office.
Jeray previously served as a legal intern at Quick Hit, Inc., a developer of free social sports games, where she worked on legal issues such as license agreements between the company and former NFL coaches and players, privacy policies and end-user license agreements for online games.
While attending Boston College Law School, Jeray served as Senior Editor of the Uniform Commercial Code Reporter-Digest. During law school, she held positions as a legal intern and as a law clerk at two Massachusetts law firms. Jeray also served as a research assistant to Professor Ingrid Hillinger at Boston College Law School.
Prior to launching her legal career, Jeray served as a general manager at The Discovery Communications Group. In this role, she oversaw the production of marketing projects and managed a multi-level campaign that earned recognition by the New England Direct Marketing Association. While earning her undergraduate degree, Jeray served as an editorial assistant at The Boston Globe.
Jeray earned her undergraduate degree from Merrimack College and a law degree from Boston College Law School. She is a native of Lowell, MA and currently resides in Nashua, NH. Jeray is admitted to practice law in New Hampshire.
About Preti Flaherty
Preti Flaherty has offices in Portland and Augusta, ME, Concord, NH, Boston, MA and Washington, DC. With more than 90 attorneys, the firm counsels clients in the areas of business law, energy, environmental, estate planning, health care, intellectual property, labor and employment, legislative and regulatory, litigation, technology and telecommunications. More information about the firm is available at http://www.preti.com.
###