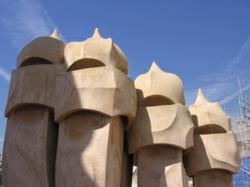 I always want to find a gift that wows, that will really surprise and delight my wife
Atlanta, GA (PRWEB) November 21, 2011
One of the major challenges during the holiday season is to find just the right gift for a partner or spouse. "I always want to find a gift that wows, that will really surprise and delight my wife," says Matt Stillwood, who lives with Marie, his wife of eight years, in Atlanta. "I also look for a gift that we can enjoy and share together, and that will create long-lasting memories." Matt has found the perfect solution for his annual challenge: Atlanta-based Austrian Airlines Vacation Center's has created a new week-long vacation package for travel this winter to two very different cities in Europe. The get-away combines roundtrip air, three nights in Barcelona (Spain) and three nights in Vienna (Austria).
"This Europe vacation package combines two cities for the price of one. I think it is perfect for a romantic get-away, perhaps even over Valentine's Day in February," says Stillwood. "We enjoy traveling to Europe during the off-season when the cities and museums are less crowded. Both Barcelona and Vienna are great any time of the year, and quite romantic in their own way!"
The Barcelona & Vienna vacation package starts at $1,239 per person double occupancy from New York or Newark and is valid for travel between now and December 14, 2011 and again from January 8–March 28, 2012, any day of the week, subject to availability. This and many other well-priced vacation packages are available from other US gateways, including Washington ($1,279), Atlanta ($1,279), Miami ($1,279), Chicago ($1,359) and Los Angeles ($1,459). Weekend surcharges apply. Single supplements, upgrades, additional combinations and extensions are available upon request.
Further details may be found on austrianair-vacations.com. For additional information or to make reservations, contact Austrian Airlines Vacation Center at (800) 790-4682, or info(at)austrianair-vacations(dot)com.
Fine Print:
All packages need to be booked at least 14 days in advance. Payment in full is required within 24 hours of confirmation. Once confirmed, the packages are non-refundable, non-transferable, and cannot be changed. Packages will be booked in economy class and are subject to schedule and space availability. Your minimum stay is 3 nights and one Saturday overnight, and your maximum stay in Europe is 30 days. The Austrian Airlines Vacation Center package prices include fuel surcharges but do not include US Customs / INS / Aphis fees / International Transportation Tax / Passenger Facility Charges / Civil Aviation Security Fee / domestic and foreign Security and Airport Charges of approximately USD $185 - $260 per passenger, depending on the itinerary. Additional taxes and fees may be collected by foreign governments. All taxes / fees / surcharges are subject to change and exchange rate fluctuations and may vary on the day of booking.
###