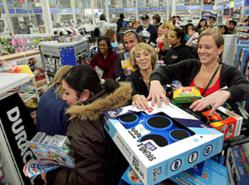 (PRWEB) November 21, 2011
With less than 4 days to go until Black Friday (November 25th) Close to one in five Canadians (17%) are finalizing their plans to shop across the border on Black Friday according to a recent Poll at Moneyville.ca.
Black Friday, the Friday after American Thanksgiving when U.S. retailers kick off the holiday shopping season by offering some of their biggest discounts of the year, has long been popular with Canadians shoppers looking to score deals. But, with the Canadian dollar hovering close to parity during the last few holiday shopping seasons, the cross-border shopping has been taken to a whole new level.
According to the Moneyville.ca poll, 13 percent of respondents are planning on spending over $500 across in the US on Black Friday 2011.
As Canadians retailers wise up to the high number of Canadians choosing to spend their holiday dollars across the border, many are offering their own Canadian black Friday deals to compete. However, only three percent of Canadians in the Moneyville.ca poll felt that Canadian retailers would be offering discounts that were comparable to those south of the border.
For those Canadians looking to cash in on Black Friday deals, Moneyville.ca has the following tips:

Many of the very hottest Black Friday deals are available in limited quantities. If you're serious about getting the door crasher deals - then get there well before the store opens.
Do your research before you leave home. For items that you know you'd like to pick up on Black Friday, check out the Canadian price online to be sure that you know what price is really a deal once you pay duty and taxes.
Expect long lines at the border – especially on the way home. Check border wait times at peacebridge.com.
Understand duty exemptions – There is no duty exemption on a 24-hour stay, so expect to pay duties on any items made outside Canada, the U.S. or Mexico. On a television set made offshore that would add 6 per cent to the price of the purchase, for example.
For other information, such as ID requirements and personal exemptions, check with Canada Border Services Agency either online at http://www.cbsa.gc.ca, or by calling 1-800-461-9999.
Moneyville.ca is Canada's comprehensive financial resource for everyday personal finance. Offering Canadian-focused content, interactive tools and calculators, an online community, expert advice and thoughtful commentary on the financial news of the day, Moneyville.ca will help clients take control of finances.
###