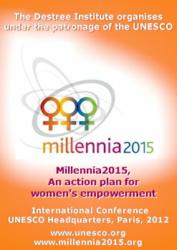 (PRWEB) November 18, 2011
Today, women account for over 40% of the world's workforce. Yet, they earn less than 25% of the wages, and held less than 20% of senior manager positions. Worldwide, 53% of working women are in vulnerable jobs that lack labor laws protection, and spend more time on unpaid work than men, with the gap ranging from 1 hour per day in Denmark to 5 hours per day in India. Globally, women's rate in national assemblies is below 20%, and only 4% of ministerial positions are held by women. Physical and/or sexual violence affects 30–60% of women worldwide, with prevalence varying from 15% in urban Japan to 71% in rural Ethiopia, as discovered by The Millennium Project research global survey.
Traditional media have had limited success influencing gender stereotyping, and women represent only one-third of full-time workers in journalism, reveals an IWMF survey. However, 78% of women (versus 66% of men) are active users of social media, a new powerful medium for change.
Empowerment of women has been one of the strongest drivers of social evolution over the past century and a very efficient strategy for improving the human condition, including the status of women itself. This has been proven as true through The Millennium Project's research. Yet, gender stereotyping continues to negatively impact women around the world and many countries do not have legislation criminalizing violence against women and gender-based discrimination. Therefore, The Millennium Project has launched a global study for assessing if certain stereotypes are prevailing views, how have they been changing over time, and what role the media plays in establishing and perpetuating them. The study is worldwide and looks back to the mid-20th century and forward to mid-21st century to obtain respondents' views on how things may have changed or seem likely to change in the future
These are a few glimpses into the Global Challenges we are facing, with more details offered in the State of the Future report. The Challenges are structured and concise, with regional differences taken into account. What might be a challenge for a woman in Asia could be drastically different for one in Europe or Africa.
If you are interested in participating in this Real-Time Delphi, please sign in at: http://www.realtimedelphi.net, and when prompted, use the study code: "images". The results of this Delphi will be included in the State of the Future 2012 and presented at the Millennia2015 conference at UNESCO.
Millennia2015 "Women actors of development for the global challenges" is an international foresight research process launched in 2007 by The Destree Institute, a European Research Centre and NGO in operational relations with UNESCO. With its international partners and particularly with The Millennium Project, Millennia2015 gathers women and men builders of equitable futures in all countries and regions of the world. It is a worldwide think and action tank lead by an international steering committee. Millennia2015 communities count more than 1.500 members from all continents, gathering research centers, universities, international processes, civil society and stakeholders who share the same goals.
The Millennium Project was established in 1996 as the first global futures research think tank. It conducts independent futures research via its 40 Nodes around the world that connect global and local perspectives. Nodes are groups of individuals and institutions that pick the brains of their region and feedback the global results. It is supported by UN organizations, multinational corporations, universities, foundations and the national governments.
###