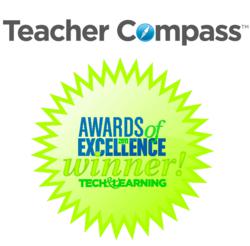 New York, NY (PRWEB) November 21, 2011
Pearson's Teacher Compass, a customizable online teacher evaluation and professional development system developed in collaboration with Johns Hopkins University, took top honors in "Tech & Learning" magazine's 29th annual Award of Excellence program. For the second consecutive year, Pearson leads the prestigious competition, with honors for seven of its online and mobile learning tools and programs.
Teacher Compass is designed as both a diagnostic and prescriptive professional development tool. The software simplifies the process of teacher observation and evaluation, allowing users to input data online easily via a laptop or mobile device and to generate easy-to-read reports and graphs quickly. Once trends or target areas for improvement have been identified, Teacher Compass automatically suggests online professional development opportunities from a library of thousands of videos, tutorials and documents. Administrators can prescribe this professional development to teachers and track usage. The digital tool is highly customizable, supporting whatever evaluation framework and performance indicators have been chosen at the state, district or local levels.
Developed over a nine-year period with input from numerous district partners, Teacher Compass provides on-demand access to current and past observations, helping administrators quickly identify trends in instructional performance and professional growth. The data can then be correlated to student reports to provide a broader view of teacher performance.
"As school districts around the country strive to ensure that all students are taught by an effective teacher, they are increasingly turning to Teacher Compass to support their initiatives," said Stefan Kohler, who heads Teaching Effectiveness at Pearson. "It is particularly gratifying to have the Tech & Learning Awards of Excellence judges recognize Teacher Compass for providing powerful data and tools for enhancing teacher effectiveness by honoring it with this prestigious award."
Teacher Compass is among the winning products featured in the December 2011 issue of "Tech & Learning" magazine, as well as on the website. For more information, visit http://programs.pearsonpd.com/teachercompass/.
About Pearson
Pearson, http://www.pearsoned.com, has as its mission to work side by side with states, districts, teachers, students and parents to ensure that every child is prepared for college and career (NYSE: PSO).
For more information:
Kate Miller, kate.miller(at)pearson(dot)com – 800.745.8489
###