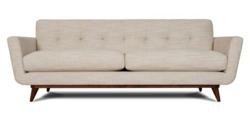 I didn't want this sofa to be cartoony - I wanted a bold and decisive-looking sofa frame that captures your attention when you enter the room. - Josh Stellin, Director, Thrive Furniture
Los Angeles, CA (PRWEB) November 18, 2011
Thrive Home Furnishings, an eclectic mid-century style furniture design firm, announces the introduction of the Nixon mid century sofa.
The Nixon Sofa itself is inspired by Danish style, featuring mid-century flared arms, a distinct tufted tight back and comfortable nubby fabric. Completing its elegant look, its base is exposed blonde walnut.
Customers have a wide variety of choices for the cover, to truly make the sofa their own. Covers have four different choices for leather, and over fifteen different fabric colors.
Josh Stellin, Director of Thrive Home Furnishings said, "I didn't want this sofa to be cartoony - I wanted a bold and decisive-looking sofa frame that captures your attention when you enter the room."
Currently, the Nixon Sofa is available for an introductory sale price of $1,699.00 (compared to a regular price of $1,799.00). It is available for purchase from Thrive Home Furnishings' website at http://www.thrivefurniture.com or through its toll free number 1-888-338-1445.
About Thrive Home Furnishings
Based in Los Angeles, Thrive Home Furnishings is a division of Versa Products Inc. It creates cutting-edge eclectic mid-century modern '50s style furniture with mainstream appeal.
All of its furniture is high quality and made in America, produced in Thrive's state of the art Los Angeles factory. Thrive Home Furnishings stands behind each and every piece of furniture it makes with an industry-leading 21 day satisfaction guarantee. Thrive utilizes the highest quality raw materials with a core focus on remaining eco-conscious. It is an industry leader in promoting green practices as a proud member of the Sustainable Furnishings Council.
For more information, please visit http://www.thrivefurniture.com.
###