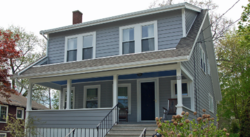 Boston, Massachusetts (PRWEB) November 28, 2011
In an effort to have more online visibility and give homeowners better ways to research products online, Everlast Composite Siding has released a new photo gallery on their website. "We've recently updated our photo gallery to include more photos of Everlast Siding on various styles of houses and in many different colors," explains Peter Martino of Everlast.
The photo gallery features exquisitely clear photographs of siding types, both up close and from a distance, allowing customers to view both the fine detail of different siding choices as well as the overall tone and feel a particular siding gives a home.
Having worked as siding contractors in Boston for many years, Everlast understands that customers deserve options when choosing siding and is seeking to give homeowners a better way to research products online. To make the process of choosing online as easy, convenient and effective as possible, Everlast is minimizing text and increasing the number of photos, videos and charts on their website.
When trying to choose Massachusetts siding, Everlast wants you to know it can be as easy as browsing photos from the comfort of your own home. If you would like an even more detailed look at the siding Everlast offers, you can request a high-resolution photo book that Everlast will send to your email. "We hope you enjoy viewing the various styles of homes that have been beautifully sided in Everlast Polymeric Cladding," says Peter Martino.
About Everlast Composite Sliding:
Everlast Composite Siding provides high-quality Polymeric Cladding, backed by a transferrable Lifetime Performance Warranty, to homeowners in Boston and the surrounding area. Customers rave about the durability and curb appeal of Everlast. For more information, please visit: http://everlastsidingnewengland.com
###