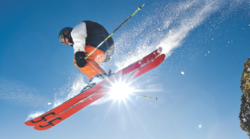 Dunsmuir, CA (PRWEB) November 18, 2011
Waking up this morning in Siskiyou County, California, folks saw nothing but grey, low skies and that which you have to just love to live in the Cascade region: Rain. This author lives in Dunsmuir, CA, lying roughly at an elevation of 2,200 feet above sea level. However, ten minutes to the north, majestic Mt. Shasta rises to over 14,000. The meaning? When it's raining here outside the FireWhat Inc. office, the mountains above are filling with snow.
The Warren Miller World Tour made a stop in Weed, CA Wednesday night at the College of the Siskiyous. The company has been making ski film history for sixty-two years in a row, and this year's production, "Like There's No Tomorrow" was no exception. An excited crowd came out for the event, and watched as some of the top skiers in the world sent lines through the world's most sought after powder. Squaw, Norway, Utah, Chile, and New Zealand were just a few of the areas filmed. The scenery was incredible, and the skiing even better.
The event was also a chance to raise money for local charities. Toys for Tots collected toys and cash at the door. A ski boot was passed through the crowd, raising significant funds for the Mt. Shasta National Ski Patrol, keeping the mountain northern California plays on a safer place. Prizes and T-shirts were handed out, including a chance to win a seven-day heli-skiing trip to Alaska.
What a great way to start the season. As Johnny Moseley, former Olympic Gold Medal Champion and narrator of the film stated: "Winter has now begun."
The movie was brought to Weed only with the help of a number of sponsors. FireWhat Inc., a start-up from Dunsmuir, is a website devoted to bringing today's technology to firefighters. Pusher Inc., also from Dunsmuir, creates web design applications, including mobile app construction. The Fifth Season and Shasta Base Camp were on-scene, handing out giveaways. Other key sponsors included Jim Wilson Ford, Manfredi's Depot, and the Dunsmuir Brewery.
About FireWhat Inc.
FireWhat Inc. is a start-up company founded by an MIT grad and two professional firefighters. FireWhat's mission is to provide a professional platform that inspires the highest quality of emergency service training and education. Through development of web and mobile products, FireWhat Inc. seeks to update the antiquated delivery of emergency services training and to incorporate innovation into a technology-deprived industry.
###