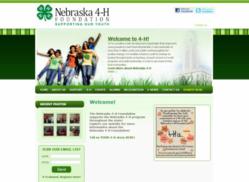 We mapped out a strategic path to get 4-H lovers involved.
Lincoln, Nebraska (PRWEB) November 22, 2011
Turbine Interactive and the Nebraska 4-H Foundation announced a milestone of $9,000 in donations since the March 2011 launch of the foundation's first-time online social media fundraising campaign, including a new website. The campaign and website were created and administered by Turbine Interactive.
"We are thrilled to have the opportunity to turn up the heat for 4-H by giving members and alumni a place to capture their 4-H memories and get them interacting with one another," said Turbine CEO Jason Petersen of the Nebraska 4-H Foundation's new website and marketing activities. Petersen said the website and related traditional and social media forums helped increase donations by making it easy to give online.
The Nebraska 4-H Foundation website is designed to serve as a hub of activity, with users being funneled to the site through elements of a strategic marketing and fundraising plan. "The Nebraska 4-H Foundation already had basic digital marketing tools in place, but lacked the strategy to use them with any power," Petersen said. "We mapped out a strategic path to get 4-H lovers involved."
Petersen said the key to the success of the project was taking time to understand the organization and their alumni. Using this information, a team of strategic partners worked together to create a custom solution. "Our business model allows us to form a team specifically for each client, bringing in the best expertise to fit the specific needs of each project," Petersen said.
For the Nebraska 4-H Foundation project, for example, Turbine Interactive engaged the services of Clover Frederick of the Nonprofit Marketing Network to help identify and create effective tactics and messages. Frederick is an expert in using new media to increase interest in nonprofit organizations.
The custom marketing plan combines the best digital marketing technology available with traditional media to bring people to the website. "We are using email marketing and social media to interact with 4-H members and alumni," Petersen explained, "and we're using traditional marketing tools, such as print newsletters and appeal letters, to continue communicating with donors and potential donors."
Stuart Shepard, executive director of the Nebraska 4-H Foundation, said working with Turbine Interactive was easy because Petersen and the strategic team members knew exactly how to approach the project efficiently and effectively. Shepard said he chose Turbine Interactive for the job because it was obvious they had the professional staff and expertise to meet the challenges of working with a large national, not-for-profit organization.
"As Nebraska's largest youth program serving more than 143,000 youth, we knew we needed to partner with a web company that really would take time to understand our organization at both the state and national levels. We're proud of our new website, and proud of our great relationship with the Turbine Interactive staff."
About Turbine Interactive
Turbine Interactive empowers businesses by energizing their unique online brands. Turbine creates the tools and shows clients how to leverage interactive technology, such as websites, social media and mobile phone applications to fuel profitable strategic marketing plans. The digital marketing communications firm, headquartered in Lincoln, Nebraska, offers a creative team of designers, developers and strategists to clients nationwide. The company is led by Jason Petersen. For more information, call 402.817.1224.
About Nebraska 4-H Foundation
Founded in 1958, the Nebraska 4-H Foundation solicits and receives contributions on behalf of Nebraska 4-H. Contributions are used to enhance the Nebraska 4-H Youth Development Program. With private support from individuals, businesses and organizations, the Nebraska 4-H Foundation funds new 4-H programs and improves existing programs at the county, district and state levels. The Foundation awards annual grants, supports teen and adult leadership education, sustains volunteer programs, recognizes members, conducts project clinics and events, and much more. Learn more about the Nebraska 4-H Foundation at http://www.ne4hfoundation.org.
###