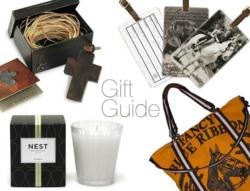 The holidays are one of my favorite times of year. We're delighted to share holiday decorations and gift suggestions with our friends, family, and customers.
Tulsa, OK (PRWEB) November 21, 2011
With the holiday season right around the corner, T.A. Lorton is pleased to announce wintery, wonderful gifts and decorations. The T.A. Lorton gift guide provides great suggestions for him, her, the hostess, gifts under $50, and graduation gifts.
From unique candles and fragrances including the the Tree Candle by Lafco and the Coldpiece Cube Candle, to holiday themed tumblers, T.A. Lorton has something for everyone. Find the coolest tech gifts of the season available from T.A. Lorton. The Pop Phone Retro Handset changes the way one uses a mobile phone and combines classic style with a contemporary edge while the Curve Wireless Bluetooth Telephone provides a more modern look.
In addition to shopping for the perfect gift, it is also time to ready the house for the holidays. T.A. Lorton features Christmas décor. Add a Standing Deer Figure to the mantle, outfit the kids with Elf and Penguin Tumblers, and place Roland Shea Butter Soap in the bathrooms.
---
T.A. Lorton is an online retailer and home store in Tulsa, Oklahoma specializing in unique treasures. Since 1988, owner Tracy Lorton has created a collection of handmade, whimsical, hard to find objects. Learn more about T.A. Lorton at http://www.talorton.com, visit our store, or shop online.
###