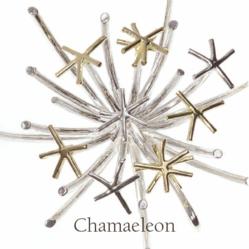 the newgrange crosses make a wonderful present at an affordable price
New York, NY (PRWEB) November 18, 2011
John Murray CEO of Donegal Importers announced that "Martina Hamilton is one of Ireland's leading producers of contemporary Irish jewellery. For over 20 years her distinct award winning international brands include Spirit of Ireland and the Martina Hamilton Collection both of which have been designed and handcrafted in her Sligo studio. Mr Murray went on to mention that "Martina's history is impressive and her work will continue to be offered by Donegal Importers. An outline of her history is as follows:
1986 Graduated Fine Art - Sculpture in IT, Sligo.
1988 Registered with The Assay Office and created the original Cat & The Moon jewellery collection.
1989 First attended Showcase Ireland in Dublin and has exhibited every year since.
1989 Opened The Cat & The Moon shop in Sligo, representing the best of Irish jewellery, fine art and handcraft.
2001 Attended US trade shows and began exporting her jewellery to the USA.
2009 Launch of the Martina Hamilton Collection Jewellery Brand.
2009 Launch of the Spirit of Ireland Jewellery Brand.
2010 Opened the Hamilton Gallery."
Martina stated that she "continues to design new jewellery collections annually. She enjoys creating special pieces for her customers to commission."
###