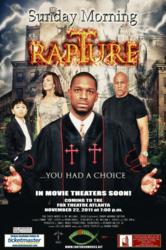 Sunday Morning Raptures Debuts With Hollywood Style Red Carpet Premiere November 22, 2011 At The Fox Theatre In Atlanta. Tickets Available at http://www.FoxTheatre.org
Atlanta, GA (PRWEB) November 18, 2011
'Sunday Morning Rapture', the new film by Pastor William Sheals and End Touch Movies, debuts November 22, 2011, at The Fabulous Fox Theatre in Atlanta. End Touch Movies is hosting the red carpet/black tie premiere at 7:00 p.m. Tickets are only $27 dollars and are available through the Fox Theatre box office and Ticketmaster. The film will also be available for purchase Thanksgiving Day at http://www.EndTouchMovies.net.
'Sunday Morning Rapture' features a cast of accomplished actors including Tiny "DEBO" Lister, Bryan Davoll and Darwin Hobbs, winner of the 2011 Stellar Award for Praise and Worship CD of the Year. The film's Director and Executive Producer is Dr. William L. Sheals, senior pastor of Hopewell Missionary Baptist Church in Norcross, GA, for over 31 years. The screenplay was written by Eric Ayala.
'Sunday Morning Rapture' shakes you to your core and makes you ask, "If I died today, would I be saved?" End Touch Movies creates, produces and distributes Bible-based films, books and media to the faith-based community and community-at-large.
Pastor Sheals has grown Hopewell Missionary Baptist Church from a small, rural church to a suburban mega-church. He has appeared in 3 major films. He's directed 2 independent films, and he wrote, directed and produced the film, The Prodigal Son. He's written over 7 inspirational books and has received numerous awards and honors such as the Presidential Special Citizens Award for "Founding Director of Ministers Against Drugs" in 1989, Founding President of the North Metro 100 Black Men in 1993, recipient of the Martin Luther King, Jr. Drum Major Award in 1999, and Who's Who in Black America 2002.
Tiny "DEBO" Lister has appeared in Beverly Hills Cop II, Fifth Element, Runaway Train and the Austin Powers movie Goldmember with Mike Myers.
Attend the Hollywood Style Red Carpet Premiere of 'Sunday Morning Rapture' November 22, 2011 at The Fox Theatre in Atlanta, Georgia. Tickets Available at http://www.FoxTheatre.org for just $27.
If you can't make it to the Premiere, be sure to view this powerful movie, available Thanksgiving day at http://www.EndTouchMovies.net.
About Quantum News Network:
QNN is an Internet-Marketing hybrid that creates highly-optimized video content for clients that quickly rises to Page-One of the Search Engines. If you'd like to DOMINATE Page-One, contact QNN at http://www.QuantumNewsNetwork.com.
Contact:
Priscilla Preston
quantumnewsnetwork.com
Phone: 404-382-5949
# # #