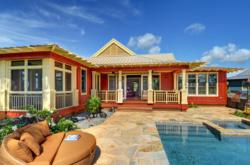 Our Kukui`ula Collection marks a new era for Parrish Kauai and further expansion in the high end luxury Kauai vacation rental market. --JP Parrish
Koloa, Kauai, Hawaii (PRWEB) November 21, 2011
A new ultra-luxury cottage at Kukui`ula is the first Kauai vacation rental offered exclusively through The Parrish Collection Kauai. Located in Hawaii's newest community at Poipu Beach, the luxurious home boasts an impressive list of amenities and is impeccably furnished and decorated by world renowned interior designer, Donna Vallone. This home is perfect for the Kauai traveler who is looking for that refined and indulgent vacation experience.
The Kukui`ula Collection is the newest offering from Parrish Kauai and comes during the fifth anniversary of the company's change in ownership and branding from Grantham Resorts and Real Estate, according to President JP Parrish. "The excitement generated is at an all-time high as we announce this new rental opportunity," said Parrish. "The bar is yet again raised for those visitors looking to experience Kauai's finest jewel."
Only the best homes and condos are part of its collection which offers the largest variety of professionally managed Kauai vacation rentals and the most oceanfront homes in Poipu.
The Parrish Collection Kauai is a source of pride for Nancy Grantham, the company's previous owner, who said, "It is wonderful to see my 20 years operating Grantham Resorts continuing to prosper in the capable hands of JP. I so admire and respect the standard of excellence that continues."
The excellence that Ms. Grantham speaks of is shown in the accolades and recommendations received nationally by The Parrish Collection Kauai for its high level of guest satisfaction.
JP Parrish commented that, "The strength in our company is an outstanding team that prides itself in surpassing expectations and building great relationships with owners and guests. Our first five years have been exciting and I look forward to those ahead. Our Kukui`ula Collection marks a new era for Parrish Kauai and further expansion in the high end luxury Kauai vacation rental market."
Makai Cottage Description:
One of the most luxurious Kauai vacation homes on island, the air conditioned residence features partial ocean views, 4,500 square feet, four bedroom suites each with private bath, a separate guest cottage, an outdoor lava rock shower, swimming pool and spa. Complementing the superior amenities is the Parrish Kauai full service guest concierge and personal planning prior to check-in.
Reservations are now being accepted for stays beginning January 1, 2012 by calling 800-325-5701. Rates start at $650 nightly and a minimum seven night stay is required.
About The Parrish Collection Kauai, LLC:
The Parrish Collection Kauai, established in 1984, represents the island's finest selection and variety of luxury Kauai vacation rentals. Recently chosen a 2011 Top Rental Manager by FlipKey, their distinguished collection of 200 homes and condominiums on Kauai's North and South Shores is complemented with a dedicated long-term staff and a full service Guest Concierge. Four offices are located in Koloa, Princeville, and at Poipu Beach to assist guests and owners. Online direct booking and property information is available on their website.
If you would like more information about this topic, or to schedule an interview with JP Parrish, please call Anne English at 808-742-2000.
###