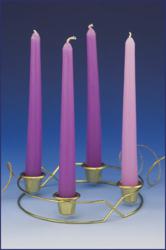 Our quality Catholic gifts on sale help us prepare for the birth of Christ, and remind us of the meaning of Jesus in our lives.
San Mateo, CA (PRWEB) November 24, 2011
To celebrate Thanksgiving with the Catholic faithful, Discount Catholic Products ™ heralds the beginning of the Christmas season with a Thanksgiving and Advent sale. The online Catholic store offers a wide variety of religious items ideal for celebrating this season with a sale that runs until November 30, 2011.
"Thanksgiving is a time to show our appreciation for the rich life God has given us. What better way to give thanks than to share our blessings with our loved ones by gifting religious pieces fit for the season?" says Kirsten Padula, spokesperson of Discount Catholic Products ™.
Thanksgiving Day is a religious and federal holiday that has officially been an annual tradition in the United States since 1863. This holiday, celebrated every fourth Thursday in November, is one of the most popular and busiest holiday seasons in the United States and is typified by a Thanksgiving dinner held with the family.
Thanksgiving is followed by another significant religious feast, Advent. Beginning on the first Sunday after Thanksgiving, Advent begins on November 27 this year, and is composed of four Sundays dedicated to meditations on Jesus. For Catholics it is an important period of preparation before Christmas.
"Advent is a time for us to direct our hearts and minds to the birth of Jesus and contemplate following God's will," Padula adds. "We at Discount Catholic Products ™ want to help Catholic devotees as we ready ourselves to celebrate the birth of Jesus. Our quality religious items on sale aid this preparation, and remind us of the meaning of Jesus in our lives."
Discount Catholic Products ™ offers colorful Advent calendars with beautiful images of the infant Jesus and the Nativity Scene. Catholics can also purchase the store's Advent Wreath Nativity Candle set, a special six-inch pillar candle featuring a base with beautifully carved figures of Joseph, Mary and Jesus depicting the first Christmas. These also make perfect Catholic gifts for friends and family.
For more information, please visit http://www.discountcatholicproducts.com.
###