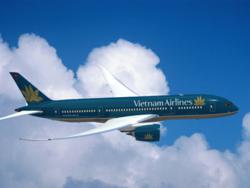 Further information about this program can be referred at vietnam-airline.org, Vietnam Airlines' ticket-offices and agencies nationwide, or contact number: Hanoi - (84 4) 38.320.320
(PRWEB) November 19, 2011
The national flag-carrier, Vietnam Airlines, announced it will officially expand its domestic program "Free & Easy", in order to better serve its customers who travel between Hanoi, Danang, Hue, Tuy Hoa, Nha Trang, Dalat and Ho Chi Minh on August 24th.
The prominent feature of this program is that travelers will have additional choices to stay in 3- to 5-star hotels across Vietnam, instead of only 4- to 5-star ones in the Central Region before.
Besides, the carrier's distribution channel has been expanded to big agencies, instead of just its own ticket-offices, to enable flexible booking. Under this newly-expanded program, a passenger will get an economic ticket with deadline of December 31st, 2011 with two nights in hotels, including breakfast and transport vehicles at airports at arrival.
This program, a mixture of air and ground services, will offer travelers a 30 per cent discount in comparison with the prices offered for them while using a single service. Vietnam Airlines' counterparts are big and prestigious businesses, such as Hilton, Sofitel Plaza, Sun Spa, Furama, Lavender and Liberty...
The lowest price for the routes between Hanoi - Ho Chi Minh city and Da Nang is only VND 3,900,000. It is expected that the program will keep being expanded with other hotels and flights.
The international program, "Free & Easy", started in late 2005 and currently it has 11 destinations with more than 200 hotels, mainly in Southeast Asia (Thailand, Cambodia, Singapore, Malaysia) and Northeast Asia (China, Hongkong, Korea). Apart from the international program, the domestic program was piloted from October 2009 to December 2010.
Travelers that book their tickets through vietnam-airline.org will receive a reduced rate on a Vietnam Visa at Smile Vietnam Visa (just 11 usd for 1 month single) , which is required for most international travelers visiting the country. No visit to the Embassy needed, travelers just complete a short email application and save time and money.
Further information about this program can be referred at http://vietnam-airline.org/, Vietnam Airlines' ticket-offices and agencies nationwide, or contact number: Hanoi - (84 4) 38.320.320
# # #