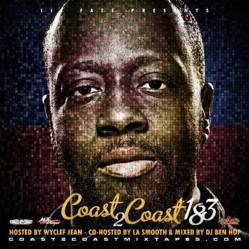 Miami, FL (PRWEB) November 18, 2011
Wyclef Jean is the host of the recently released "Coast 2 Coast Mixtape Vol. 183," another in its weekly mixtape series hosted by a major artist. The series is now the most downloaded of its kind worldwide. This installment, hosted by renowned hip hop artist and philanthropist Wyclef, co-hosted by Power 96 Miami's LA Smooth, and mixed by DJ Ben Hop, is available for free download from Coast 2 Coast Mixtapes. The project features remixed and original tracks from some of the hottest artists in the industry like Mary J. Blige, Drake, Pusha-T, Nelly, T.I., Lloyd Banks, Kendrick Lamar, and Tone Trump. Vol. 183 also features numerous other up-and-coming artists in hip hop.
Wyclef Jean is well known for his musical start as part of The Fugees, who exploded onto the scene with their Grammy-award winning second album, The Score in 1996. Wyclef has gone on to have a hugely successful solo career as well, and has released nine solo albums to date, as well as being featured on albums and singles with many top artists in the industry, including Shakira, T.I., Akon, Lil Wayne, and more. Hatian-born and heavily active in relief efforts and support of the country, Wyclef founded Yèle Haiti in 2005. He has spearheaded fundraising efforts in the wake of hurricanes and the recent earthquake that have devastated the area, and has also provided scholarships for many children across the nation.
Ben Hop was raised in Brooklyn, NY. He soon moved to Miami and fell in love with DJing while still in high school. But South Beach's All Star Cafe is where Hop's career as a professional DJ began. From there, he played clubs throughout South Florida including the Marlin Hotel, Level's Hip Hop Room, BED Nightclub, The Forge, Club Ivy's, Bluster's, and Gaby's. A DJ for all occasions, Ben has the knowledge and skill to spin everything from old- to new-school hip hop, R&B, reggae, soca, Latin, reggaeton, and compas. With his own production company, he also builds sound systems for everything from birthday parties and weddings to school events and major corporate functions.
Vol. 183 Track List:
1. Intro - LA Smooth & Ben Hop
Answering Machine
2. GhostWridah - Chasing Paper Ft. Kulture Shock
Wyclef Still in the Area
3. Peedi Crakk - God Bless The Lyrical
4. BariBANGZ - Smash It Up Ft. Young Ace
Wyclef - True Gangsta
5. Natalac - Money Girl Ft. Blackhilbillie
6. Tone Trump - Afghan Ft. Young Jeezy
Wyclef Shout Outs
7. Young Chris - Triple Threat Ft. Fred The Godson & Vado
LA Smooth - Coast 2 Coast
8. Capeesh - Can't Do It
LA Smooth & Wyclef - It's So Hot
9. Mary J. Blige - Mr. Wrong Ft. Drake
10. Block 4 Block - Never Come Down
Wyclef Shout Outs
11. Entelleckt - Gravity
LA Smooth - Let's Ride
12. The Block - I Can't
Wyclef & LA Smooth - Coast 2 Coast Let's Get It
13. Lloyd Banks - Make It Stack
14. Nelly - Country Azz Nigga Ft. 2 Chainz & T.I.
LA Smooth - Coast2CoastMixtapes.com
15. Rich Kidd - Can't Fuck Wit Us Ft. Gunplay & Pass 3
Wyclef A.K.A….
16. Lil Cash - Ball All Night
17. Blak Mexxiah - Brownie
Wyclef Shout Outs
18. Pusha T – I'm A Boss (Freestyle)
Wyclef Coast 2 Coast Mixtape
19. Kaz - Dirrty Teazer Ft. Deewone & Soulman
20. Jim Shusterich - Good Music Ft. Cash (Prod. by Amos)
Wyclef - I Start In English
21. Fidit G - G. Successful - Finger Lickin Good
22. Paul Bucchi (Bu-Ki) - No Rain on Povertyb
Wyclef - Stand for Something
23. Terrance Martin - Do It Again Ft. Kendrick Lamar & Wiz Khalifa
24. Outro - LA Smooth & Ben Hop
"Coast 2 Coast Vol. 183" is available for free streaming and download at http://coast2coastmixtapes.com/mixtapes/mixtapedetail.aspx/coast-2-coast-mixtape-vol-183-hosted-by-wyclef-jean
###