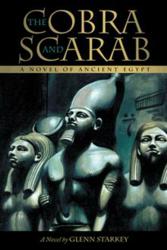 ALVIN, Texas (PRWEB) November 19, 2011
"I have always held great interest in history, especially for ancient Egypt," says author Glenn Starkey. "After watching a documentary about the Egyptian queen Hatshepsut's rise to power, stealing the rulership from her nephew, then upon her death his orders to smash and remove her name from all writings and monuments, this all made me think about the depth of hatred that existed between them. My writer's mind kept asking 'what if' and one day I realized how intrigued I was by the story."
That intrigue led to his latest book, "The Cobra and Scarab: A Novel of Ancient Egypt" (published by Abbott Press).
In this richly imagined historical novel, Starkey takes the true story of Hatshepsut and Thutmose III and imbibes it with the tricks often found in a storyteller's bag: escalating drama, compelling cast of characters and big reveals.
"To inspire readers to want to continue their own research will be an excellent accomplishment for this novel," says Starkey. "I want readers to feel that my novel carried them through a spectrum of emotions and as they were reading, they felt as if they were actually there, in that time period, with the characters. But most of all, when they finish reading the last page, I hope they will sit and think about the power struggles, the cruelties the brothers endured, and how a single action or event can change the course of history."
About the Author
Glenn Starkey is a Vietnam veteran, former U.S. Marine Corps sergeant, Texas law enforcement officer and retired security manager of a major oil corporation. He is the author of two other novels, "Solomon's Men" and "Year of the Ram," and lives with his family in Alvin, Texas.
Abbott Press, a division Writer's Digest—the oldest and most respected publisher devoted to the education and advancement of writers—is an indie-publishing imprint dedicated to helping writers bring their literary vision to print. Author Solutions, Inc., a leader in indie book publishing, will fulfill publishing, sales, and marketing services for Abbott Press. For more information, or to begin publishing a book today, log on to abbottpress.com or call 866-697-5310.
###