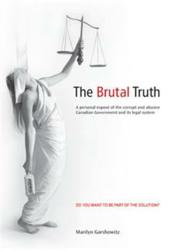 TORONTO (PRWEB) November 19, 2011
The issue of bullying has found its way to the forefront of current events. A new CNN study, "Schoolyard Bullies Not Just Preying on the Weak," investigated the issue, finding, "The research shows that many students are involved in 'social combat' -- a constant verbal, physical and cyber fight to the top of the school social hierarchy." Addressing the systemic problem of bullying, The Brutal Truth: A Personal Exposé of the Corrupt and Abusive Canadian Government and its Legal System (published by Trafford Publishing) by Marilyn Garshowitz looks closely at how certain government practices may perpetuate the bullying problem regardless whether it is in the schoolyard, workplace, or elsewhere.
Garshowitz pulls examples from her own life as well as from her extensive research, inclusive of government policies, to point out bureaucratic abuses of power at the expense of other people. She uses the book to point out evidence of "…conspiracy, faulty investigation, toxic work environments and dealings with lawyers, judges and their unethical legal system."
The issue of bullying and misuse of power is a universal problem with worldwide interest. Garshowitz's book forms the basis of her organization, The Brutal Truth, whose stated purpose is to make "… people aware of bullying and misuse of power at all levels of society, but specifically with regards to the Canadian Government, legal system and business world and to promote changes to faulty laws and social norms."
The Brutal Truth — the book, the newly released e-book and the organization (http://www.thebrutalthruth.ca) seek to educate, empower, and inspire society. Through the sharing of others' experiences, and working with the synergy of other individuals and organizations addressing the worldwide dilemma, the perpetrators of bullying and abuse will be held accountable for their actions and continued abuses thwarted.
About the Author
A Toronto native and resident, Marilyn Garshowitz earned a degree in psychology at York University. She worked with troubled youths as a correctional officer at York Detention Centre. She also had a career in the financial industry working her way up to a position as a financial adviser. She would later commit her time to the Brutal Truth project, an effort to fight against bullying and the misuse of power.
###