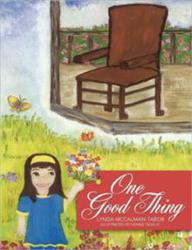 MADISON, Miss. (PRWEB) November 19, 2011
Losing a loved one can be devastating, even more so as a young child. To help children understand and deal with grief, author Lynda McCalman-Tabor and illustrator Denise Deville have created the new book One Good Thing (published by CrossBooks).
Anna and her Grandpa Bill have a special bond with each other. Grandpa Bill plays a couple of practical jokes on Anna who loves to explore nature with her grandfather. He teaches Anna about God and nature and leads her to understand that God has provided for everything. However, when Anna loses Grandpa Bill, she revisits the home and remembers the good times – memories that help her begin to deal with the insurmountable grief of losing a loved one.
One Good Thing helps children focus on the good memories as they begin to deal with their own grief after losing someone close. Emotions of joy, fear, surprise and sadness give the readers helpful discussion points for understanding their own loss in a backdrop of God's beautiful world – illustrated in colorful original acrylic art. An Excerpt from the book:
Grandpa Bill laughed and said, "God gave us one good thing when he gave us this beautiful world so full of surprises."
Anna said, "Grandpa Bill, God gave me one good thing when He gave me you--so full of surprises!"
Through reading and discussing One Good Thing, children and their families can improve the healing process.
About the Author
Lynda McCalman-Tabor is a retired educator who for decades designed and presented "Children's Literature: A Springboard to Reading Skills," a professional development workshop designed to lead educators in helping children become life-long readers. As CEO and owner of Educational Training Services of Mississippi, she spends time helping school districts raise student academic levels.
About the Illustrator
Denise Deville is a lifelong resident of Natchitoches, Louisiana and graduate of Northwestern State University. Deville was named winning artist for the 2008 Limited Edition Natchitoches Christmas Festival print, an honored guest artist in her local art gallery and is currently a self-employed artist with "Art by Deville". She is quite proud to have illustrated her first children's book, One Good Thing.
CrossBooks, a division of LifeWay Christian Resources of the Southern Baptist Convention, is a Christian publishing imprint committed to bringing more Christian voices into the publishing industry. Established authors, first-time authors, and authors anywhere in between can meet their goals and fulfill their vision for their books by publishing with CrossBooks. CrossBooks' innovative style of publishing blends the best of traditional and self-publishing. While our authors contribute monetarily to cover the cost of publishing, we maintain a strict moral and quality standard that every manuscript must meet for us to publish. For more information on publishing your Christian book with CrossBooks, log on to crossbooks.com or call 1-866-879-0502.
###