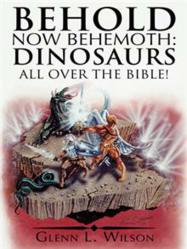 Columbia, SC (PRWEB) November 19, 2011
The Creation Museum in Kentucky is a massive, state-of-the-art collection of exhibits which exposes visitors to information and attractions which all center on the idea of showing how dinosaurs fit into the Bible. Taking up this point of view and seeking to clear the air for Christians wondering about dinosaurs, Glenn L. Wilson delivers his new book "Behold Now Behemoth: Dinosaurs All Over the Bible!" (published by WestBow Press).
According to Wilson no book has ever identified the strange creatures mentioned throughout the Bible in original Hebrew and Greek as creatures we would call dinosaurs today. He postulates in his decade-in-the-making book that when translating the Bible from its original languages, English speaking translators didn't have words for some of the creatures we now know as dinosaurs.
As Wilson says, "It can be shown that men ate, rode, fought from or along side of dinosaurs – and even used them for labor." With this book, he realizes he will be going up against evolutionists whose view is that man evolved over millions of years, after the rise and fall of dinosaurs' time on Earth. But he feels strongly that his arguments are unequivocally accurate based on his research.
Ultimately, though, this book is not about winning an argument for Wilson. "This book is history changing," says Wilson. "God finally will get credit for His marvelous creatures we call dinosaurs today."
About the Author
Glenn L. Wilson has been involved in Bible research for more than 20 years. He actually typed through the entire Bible in preparing this work – to be sure he encountered every animal, part of an animal or use of an animal in its pages. His primary research area has now been made into this book, which was peer reviewed by experts. Wilson is an instructor of nuclear power technology with one of America's most successful energy providing companies. He is the author of two other published books: Lumpy Oatmeal with Raisins and Cinnamon! and the political and religious novel The Write In (pen name Erik Aldon). He makes his home in Columbia, South Carolina, where he lives with his wife of 28 years and two daughters.
For review copies or interview request call 1(866) 879-0502.
WestBow Press is a strategic self-publishing alliance of Thomas Nelson, the world's premier Christian publisher, and Author Solutions, Inc. (ASI)—the world leader in the fastest-growing segment of publishing. Through this partnership, authors benefit from the rich publishing heritage of Thomas Nelson and the speed-to-market advantages of the ASI self-publishing model. Titles published through WestBow Press will be evaluated for sales potential and considered for publication under the Thomas Nelson imprint. For more information, or to start publishing today, visit westbowpress.com or call 866-928-1240.
###