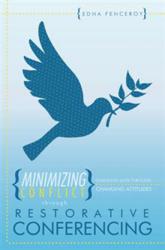 MILWAUKEE, Wis. (PRWEB) November 19, 2011
Academy Award-winning actor Colin Firth, who recently won an Oscar for his portrayal of King George VI in "The King's Speech," once said, "People are ready to pick arguments." This is ever prudent as much conflict arises throughout one's typical day, whether at home, on the bus, in the office or at the grocery store. Everyone has their own principles and beliefs, and people can't help but disagree. To help those who find themselves in disagreement and conflict comes Edna Fenceroy's "Minimizing Conflict Through Restorative Conferencing: Changing Lives through Changing Attitudes" (published by WestBow Press).
As a professional mediator, Fenceroy has had much experience helping clients with conflict resolution. It was the encouraging words from these clients regarding her work that inspired her to write "Minimizing Conflict Through Restorative Conferencing." A mother once told her, "We have been going to therapy for six months now, and you have helped us more in one hour."
Fenceroy says, "My passion for inspiring others to use their innate strength and power to make appropriate choices was an ever present influence that comforted me as I wrote this book."
"Minimizing Conflict Through Restorative Conferencing" offers a peaceful and alternative framework on how to deal with conflict. It gives readers a precise step-by-step process to follow when facilitating or discussing issues of disagreement, which encourages participants to allow for the opinions of others while recognizing that perceptions are real but not necessarily factual. The aim of the restorative process is to inspire people to do what is best by being straightforward and accepting accountability for their actions. This is accomplished through encouraging and acknowledging the positive efforts demonstrated by the participants.
"Some will see this as a new paradigm for resolving disagreements," says Fenceroy, adding that "Finger pointing or placing blame is not part of this process. Restorative conferencing aims to correct rather than punish."
About the Author
Edna Fenceroy is a facilitator of the dispute resolution process. She has been practicing the process for the past 15 years, facilitating the restorative approach to resolve disputes for the Dallas County Civil Courts, United States Postal Service and in her personal ministry helping families and individuals. Fenceroy is married with two adult sons.
WestBow Press is a strategic self-publishing alliance of Thomas Nelson, the world's premier Christian publisher, and Author Solutions, Inc. (ASI)—the world leader in the fastest-growing segment of publishing. Through this partnership, authors benefit from the rich publishing heritage of Thomas Nelson and the speed-to-market advantages of the ASI self-publishing model. Titles published through WestBow Press will be evaluated for sales potential and considered for publication under the Thomas Nelson imprint. For more information, or to start publishing today, visit westbowpress.com or call 866-928-1240.
###