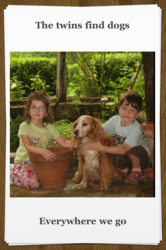 This app is so user friendly and is very well done in all respects! The sample stories are quite motivating and are fun to show others too!
Amsterdam, the Netherlands (PRWEB) November 21, 2011
AssistiveWare®, the makers of Proloquo2Go, the award-winning and most popular augmentative and alternative communication app for iPad, iPhone and iPod touch, today released version 1.4 of Pictello™. Pictello allows iPad, iPhone and iPod touch users to create talking photo albums and talking books in 23 languages. Without extra costs Pictello users have access to 50 different voices. The app is translated into 6 languages: English, Spanish, French, German, Turkish and Dutch. Each page in a Pictello Story can contain a picture, up to five lines of text, and a recorded sound or text-to-speech using natural-sounding voices. Stories can be shared as interactive Pictello stories or as PDF documents. Pictello has a 5-star rating on iTunes.
This free upgrade for our existing users brings the following features and improvements:

Free, natural-sounding Acapela Group text-to-speech voices available in 23 languages.
Support for the creation of multilingual stories.
Fully localized in English, French, Spanish, German, Dutch and Turkish, including the in-app help.
Share stories as PDF documents with non-Pictello users.
Export as PDF documents to iBooks or other PDF reader apps.
Additional fonts available for story creation.
Pictello is developed for both adults and children of all skill levels, so everyone can use it to share important moments in their lives. Pictello offers an easy visual story creation wizard and an expert editor that offers more advanced editing capabilities.
Uses for Pictello stories include:
Share personal interests in an interactive visual form.
Create stories to allow people with speech impairments to participate in social conversations
Convey information to people who process information best visually.
Increase independence for non-readers.
Teach narrative skills as part of a literacy or language skills curriculum.
Develop schedules, Task instructions, etc.
Create multilingual stories using text-to-speech or voice recordings.
Text-to-speech voices for 23 languages and dialects are available for download in the app. Pictello does not require an active Internet connection for story creation or playback. Pictello is a universal app and can, without extra costs, be used on iPhone, iPod touch and iPad.
For more information, please see our Pictello page or visit the AssistiveWare stand SN19 at BETT show in London.
Pricing and Availability:
US$ 18.99 / Euro 14.99 (exact price may vary from country to country). Pictello is available exclusively through the App Store in the Education category.
AssistiveWare is the worldwide leader in innovative assistive technology software for Mac OS X and iOS. This includes award-winning KeyStrokes™ and TouchStrokes™ virtual keyboards, SwitchXS™ scanning on-screen keyboard, LayoutKitchen™ panel editor, Proloquo™ multi-purpose speech solution, award-winning VisioVoice™ for vision impaired Mac users, Pictello™ visual story-telling app for iOS as well as the ground breaking and award-winning Proloquo2Go® communication solution for the iPhone, iPod touch and iPad. The ConvenienceWare product line makes the advanced technologies developed by AssistiveWare available in cool and convenient applications that make the life of Mac users easier.
AssistiveWare and ConvenienceWare are trade names and registered trademarks of AssistiveWare B.V. GhostReader, VisioVoice, SwtichXS, KeyStrokes, TouchStrokes, LayoutKitchen, Proloquo2Go and Proloquo are trademarks or registered trademarks of AssistiveWare B.V. All other trademarks are properties of their respective owners.
###